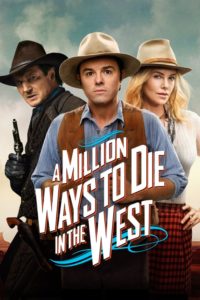 ---
As a cowardly farmer begins to fall for the mysterious new woman in town, he must put his new-found courage to the test when her husband, a notorious gunslinger, announces his arrival.
|
Cheating Notes
Edward's girlfriend, Ruth (Sarah Silverman) is a prostitute. Even though she fucks 10 or more men per day, she won't have sex with him until after they are married because she says that they're good Christians. Edward usually waits for her at the bar at the end of her shift. Hence, he can hear her moan and talk dirty while having sex with her customers in the bedroom upstairs. One time, after she just comes off from work, he has to wipe another guy's cum off her face.
Albert, meanwhile, hangs out with Anna (Charlize Theron), who, unknown to him, is the wife of a notorious gunslinger. They develop feelings for each other and they kiss briefly.
No sex scenes and nudity.
---
---
---