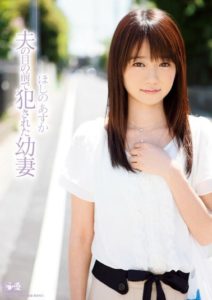 ---
Asuka Hoshino's ex-boyfriend is now working as a package delivery guy. One day, he visits her at her home and gives her oral sex in the kitchen while her husband is just in the living room. Ichijo, Asuka's neighbor whom she also has a little crush on, also has his own ideas regarding our 'innocent on the outside, yet slutty on the inside' petite wife. He comes to the couple's bedroom one night, ties the husband and fucks Asuka in front of him and gives her the facial that she deserves. He makes it good with the husband though, by making Asuka suck him while he's still bound. The husband seems to appreciate it because aside from getting off it, his relationship with his wife has gotten better afterward.
|
Cheating Notes
Asuka Hoshino's ex-boyfriend, Oki is now working as a package delivery guy. One day, he delivers a package to her, or at least pretends to but what he really wants is to engage her sexually.
With a bit of reluctance, Asuka lets him into her kitchen without her husband knowing. He then starts to eat her pussy out and uses a vibrator on it behind the kitchen counter while her oblivious husband is reading a newspaper in the living room.
Asuka's husband engages her in conversation so she tries to respond to him while supressing her moans. She pretends to wash the dishes, giving him her innocent smile and trying to act all cool while her ex-boyfriend is working her pussy out and giving her all kinds of pleasure behind the counter.
Oki sneaks out when Asuka's husband falls asleep on the couch. He takes her panties with him as a souvenir.
Meanwhile, Ichijo, a neighbor, is observing what's happening from outside and suspects that something is going on. He delivers something to Asuka. She seems to have a little crush on him because after he leaves, she mentions his name in her mind dreamily, then closes her eyes and smiles like she is fantasizing about him.
Her fantasizing is interrupted by her husband when he suddenly comes out. She looks at him with a guilty smile and answers him in a manner like she's hiding something.
I don't know about you, but a lot of times I find scenes like these (where a wife shows her attraction towards another guy and hiding it from her husband) very sexy, sometimes sexier than the sex scenes themselves.
We see flashbacks of Oki and Suka having sex when they were still together. It seems that Oki was a student at this time because she was wearing a school uniform. They really went at it hardcore, so you can't blame Asuka if she accomodated her ex-bf inspite of her being married to another guy because she knows exactly what level of pleasure he can give to her.
Oki comes back the next day to Asuka's home and he even makes sure to meet her husband while he goes off to work. He doesn't need to do it, but he still did anyway, maybe to secretly rub it to the husband how much of a cuckold he is. Because, aside from eating his wife's pussy the other day, Oki will also be fucking her hard today as soon as he is out of the door.
And so that's what Oki does. He fucks Asuka hard as soon as the husband leaves and as soon as he and Asuka get inside her home. He starts fucking her in the doorway and they end in the floor of her living room where he gives her a facial during climax.
Meanwhile, Ichijo witnesses their sex from outside the window and takes somes photos. He sneaks into the couple's bedroom one night, ties and gags the husband and fucks Asuka in front of him. Sometimes, Asuka rests her head on her husband's body and holds on to the sleeve of his shirt tightly while Ichijo is fucking her hard.
Ichijo finishes by giving our petite little wife a facial. During their intercourse, Asuka seems to be resistant and whiny, but in the end, she has a nice smile on her face while she puts her panties back on, seemingly satisfied by the fucking that her crush gave her right in front of her husband.
Ichijo is not done yet and comes up with a brilliant idea. He orders Asuka to give her bound and gagged husband a blowjob. She obeys and sucks her husband really nicely and she is able to make him cum. So now it makes you wonder whether the husband set the whole thing up if he can orgasm like that despite the current circumstance.
In the final scene, the couple are still together, happily walking on the street, so yeah, maybe the husband did set the whole thing up. But still, maybe he just started liking it in the process, and I think I find that idea hotter.
More Info for SOE-978
Watch SOE-978 Online: Javfor.me (divided into four scenes)
---
---
---