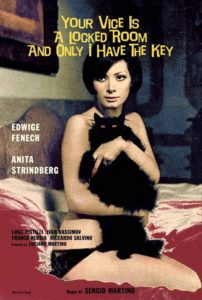 ---
Oliviero is a burned-out writer, living at his estate near Venice, his dead mother dominating his imagination. He is also a degenerate: sleeps with his maid and his ex-student, hosts Bacchanalia for local hippies, and humiliates his wife Irina in front of strangers. She lives in terror. When a young woman is murdered, police suspect Oliviero. Things get complicated when his young, beautiful, and self-confident niece, Floriana, pays an unexpected visit. A silver-haired stranger observes. More women die, and thoughts of harming Irina give Oliviero new inspiration. What's Floriana's game and who's the observant stranger? Watching all is a black cat named Satan.
|
Cheating Notes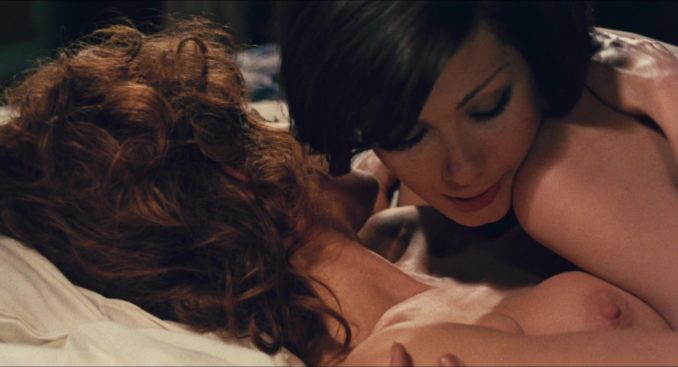 A few women have been murdered and Irene (Anita Strindberg) seems to think that the murderer is her husband, Oliviero. She also thinks that Oliviero wants to kill her as well.
In comes Floriana (Edwige Fenech), her husband's niece. She pays them a visit and will stay for a while in their mansion. When the couple fetches her at the train station, Oliviero can't believe how hot her niece has gotten now that she's all grown up.
Irene confides to Floriana about her fear of her husband. Floriana pacifies her by making love to her.
Floriana also fucks her uncle later.
Floriana and Irene's sex scene is the lousiest one in the movie as we only see headshots mostly. Floriana's fuck session with her uncle and also with the milkman make up for it.
In the latter part of the movie, we find out that Irene had been cheating on her husband even before Floriana came because there's a scene where she meets and kisses one of the male characters in the movie.
More Info for Your Vice Is a Locked Room and Only I Have the Key
Info + Download Link: Rarelust.com
---
---
---