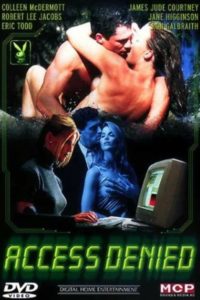 ---
A beautiful computer programmer is framed by her fraudulent lover and sent to prison. When she gets out she agrees to cooperate with a scheme of a fellow-inmate to defraud a bank, in order to have enough money to escape from her (by then) ex-lover.
|
Cheating Notes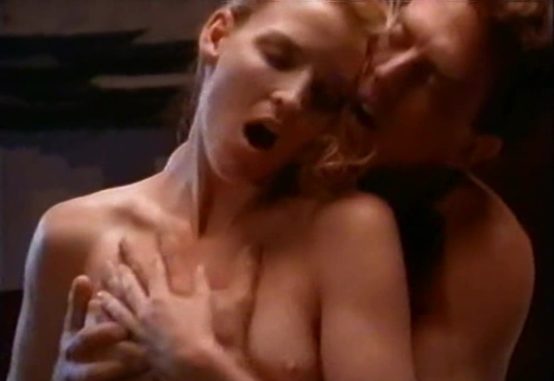 Sherry  and her new bf (sorta) Harvey
Sherry (Colleen McDermott) gets imprisoned for computer crimes because she gets framed by her boyfriend Raymond. Inside the prison, she gets close to Harvey, a computer instructor who conducts computer classes for the inmates. He helps her gets her parole early.
One day, with the help of Harvey, Sherry is allowed to go out of prison so she and Harvey have a dinner date together in some restaurant. Raymond anonymously sends some drinks their way and he puts some sleeping drugs in Harvey's drink. Later that night, Sherry seduces Harvey inside her hotel room and they start making out. However, Harvey becomes unconscious because the drug that Raymond put in his glass earlier has taken effect. Raymond knocks and enters the hotel room. Sherry slaps her, but after Raymond explains to her that it wasn't his intention to send her to jail, she calms down and has sex with him on the bed while Harvey is still lying unconscious on the floor. She moans loudly when he eats her pussy, but that doesn't wake up Harvey.
After Raymond leaves, Sherry talks to another character and she makes it clear to us that she still hates Raymond and she avoids and hides from him after she gets out of jail.
Sherry gets a new boyfriend but fucks Raymond again
So later in the movie, Sherry has a new boyfriend again named Joe. Well, what can you do? Gorgeous women rarely stay single for a long time. Sherry comes home one night and finds Raymond waiting for her. He starts harassing her about the current heist that she's involved in, and then tells her that she can have the disk that will prove her innocence if she could be nice to him. By nice, meaning have sex with him. At this point, Joe calls Sherry and detects that she's in some kind of distress even if she denies it. Sherry tells him not to come to her house tonight.
A few moments after, Sherry joins the naked Raymond in the pool to start "being nice to him." She takes off her robe to reveal her fully naked body and joins Raymond in the pool. She reluctantly starts making out with Raymond. Suddenly, Joe appears and witnesses his new girlfriend making out with some guy in the pool fully naked. Sherry shouts his name. Joe leaves disappointed but without saying anything. Raymond tells Sherry that he doesn't think that they'll be seeing much of Joe anymore (since he just caught her with another guy). He resumes making out with Sherry. The scene cuts off but Sherry probably proceeds to have sex with Raymond in the pool, even if reluctantly.
Dawn cheats on her boss
Dawn (Jane Higginson), Sherry's co-worker, is a mistress of their boss. She decides to meet and have sex with someone she met in a bar because she's fed up with her boss not fulfilling his promise of leaving his wife to be with her. He tells the guy that the reason she's going to sleep with him tonight is that her boyfriend cheated on her, but that's not really the real case.
Dawn also makes out later with Raymond, who is pretending to be an FBI agent or something. Raymond thanks her after she provides some information, then he starts rubbing her shoulder and tells her that there is one more thing he needs from her. He says it's a personal request, then he starts to kiss her. She kisses him back. They probably have sex too, but it isn't shown.
More info for Access Denied (1996)
Watch Full Movie Online
---
---
---