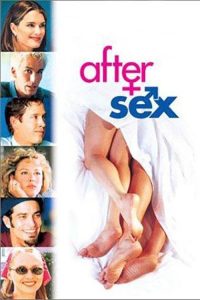 ---
4 LA women, two married, one engaged, and one divorced, go to a Palm Springs resort together for a weekend of flirting etc.

Four 1990s Californian couples, wed but one, illustrate or contradict the sexual relationship theories of two TV talk show hosts. The women shamelessly presume all men, including theirs, to be unfaithful, yet embank on a girls-only trip to LA, which turns orgiastic to the point of adultery. Back home, loyalty and other complications arise, whether to tell the cuckolded partners or protect one's own buddies.
|
Cheating Notes
The 4 LA women's one-night stands with the men they meet in a Palm Springs resort start at 25:44. It's only the divorced character of Brooke Shields we see getting some non-nude bed action and as for the rest of the women, the two married ones, and the engaged one, we only see them either about to kiss the guy they're with or pushing him down on the bed while removing his clothes off and going down after him.
---
---
---