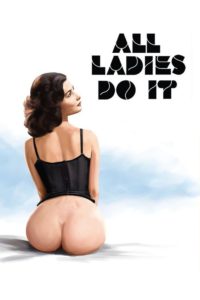 ---
Diana is a Roman wife happily married to sympathetic Paolo but she is keen on playing benign games of seduction with other men while resisting the advances of chic lingerie shop owner Silvio. She narrates her adventures to Paolo in order to stimulate their otherwise monotonous sexual life. However, under the influence of her lesbian friend Antonietta and raunchy sister Nadia, Diana starts to move the ongoings further while Paolo is still prone to believing that events narrated by her are merely fantasies.
|
Cheating Notes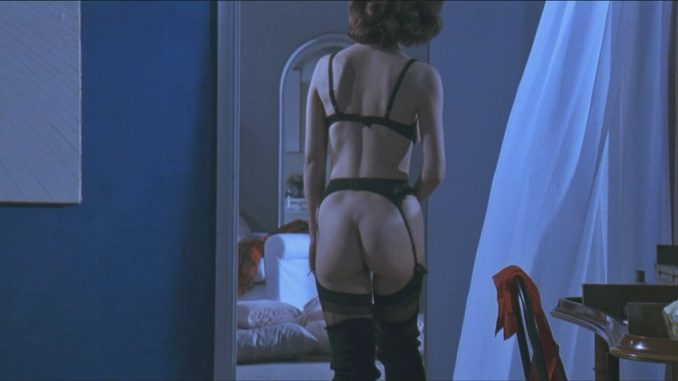 During a party, a guy named Alphonse dances with Diana. His hands are all over her, caressing the side of her breast and squeezing her butt. He even kisses Diana near her lips. Diana tries not to react wildly and talks to him calmly. Diana's husband is at one of the tables and can see them. But he does not react. Perhaps it isn't quite clear to him what the guy is doing to his wife on the dance floor.
Alphonse whispers some seductive lines into Diana's ears. Then he reaches for Diana's vagina and inserts his finger inside her and tells her that he bets she's soaking wet. This time, Diana pulls away from him, her head spinning. Alphonse smells and licks his finger soaked with Diana's wetness while she walks away.
Diana goes to the comfort room and Alphonse follows her there. Alphonse is able to lift her skirt and makes her lean on the sink and lick her naked ass. He pulls out his dick and is about to insert it into Diana's asshole when Diana's husband comes knocking on the door. Diana comes out while Alphonse hides behind the door.
During the drive home, Paolo touches his wife's cunt and confirms that she is wet. He asks her if it's because of the guy she danced with. Diana denies it at first, telling him, of course, she'll get wet if he touches her there. But when he prods on, she tells him that Alphonse came on to her like a cyclone and had nearly fucked her in the comfort room. Paolo gets mad but gets aroused at the same time. They stop the car and fuck. Paolo chooses to believe that Diana just made the story up as part of her fantasy.
The next day, Diana lets some men grope her a bit while riding the train, but not letting them go too far, just teasing them.
In her workplace, Diana witnesses her co-worker Antonietta getting banged by their boss. Antonietta is also married. Diana's client, a wife of a senator also comes that day and tells her stories about her infidelities. When Diana asks Antonietta what if she gets pregnant, Antonietta tells her that she uses the most natural of prevention methods, and that is taking it up in the ass. We also see Diana's boss hugging her and caressing her ass in front of everybody.
While watching a porn movie at home, Diana tells Paolo that her boss paws her every single minute. Paolo encourages her to go on, thinking that it's just another fantasy story-telling of hers. She tells him that her boss paws her on her tits and ass and even grabs a feel while he was saying his condolences (Diana's aunt died). Paolo wants her to go on while he positions himself behind her, ready to enter her, so this time she tells a not-so-true part, saying her boss dragged him into the back room and screwed her. Her story really excites Paolo and he pounds her from behind like crazy.
Diana goes to Venice and attends the funeral of her aunt. There, she makes out and gets penetrated by her cousin, who was her previous lover when they were young, on the side of a street. They didn't finish, though.
Diana watches some old videos of her aunt and finds out that she's cheated on her husband with several men.
Diana comes to the house of Alphonse, the guy from the party. He continues what was interrupted by the husband last time and successfully fucks her in the ass.
Diana and Paolo start to have sex again. Paolo wants her to tell her 'fantasies' to him again, this time about her cousin. So Diana tells him that she and her cousin did it when they met in their aunt's funeral. She also tells him that she went to Alphonse's house and allowed herself to be ass-fucked. Paolo is so excited and even tells Diana to give him the details while she is jerking him off. But when he sees some hickeys on her neck, he now believes that Diana is actually telling the truth. He gets mad. Diana tells him that Alphonse didn't fuck her. The reason is that she took it in her ass, not in her vagina. With this revelation sorta, Paolo slaps Diana. He sleeps on the couch that night, telling her he cannot share his marriage bed with a slut like her and that it's over between them.
The next night, Diana is joined by Nadia and Antoinette and together they go to a wild dance party. There, she lets a black guy screw her. She calls her husband while several guys are groping her. He gets madder and leaves their house to do some thinking on a beach.
In her workplace, Diana is waiting for her husband's call but it doesn't seem to come. Her boss comforts her and brings her to his office. He puts her in his lap and fingers her while she's crying on his shoulder. Suddenly, Diana's husband arrives and she happily jumps out of her boss' lap and comes out of the shop to go with her husband. Her boss is left there with his finger soaked with Diana's pussy juice, and he can't do anything but savor its smell.
Paolo tells Diana that he loves him and she can now live by her own rules and can bang away other men. In the last scene, Diana is seen leaving for the night to probably meet another man. When she arrives, Paolo doggies her, but another guy's dick was most likely inside her vagina or asshole earlier.
---
---
---