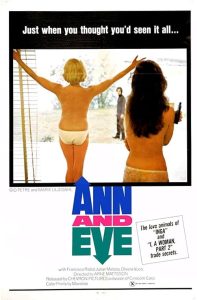 ---
An older Swedish woman and a younger Swedish woman (Liljedahl) have come to Greece on vacation. The older woman is a notorious feminist writer who has apparently committed a murder (literally or metaphorically--it's kind of hard to tell). The younger woman has just turned 18 and is about to marry her long-time sweetheart. The older woman encourages her to have a last fling, which she begrudgingly does, with a scruffy Greek sailor on a filthy trawler (how romantic!). After that she suddenly turns into a Scandinavian version of Emanuelle, sleeping with practically anyone. Of course, the director, who seems to regard himself as Fellini or Godard, goes off on all kinds of weird tangents from the main plot--a wife and a mistress have a murderous spat over a husband, a voluptuous Greek singer belts out several numbers (Liljedahl's character later has a lesbian fling with her--tragically, offscreen), and, apropos of nothing, an old German soldier suddenly tells the older woman a story about the final days of WWII (I think Liljedahl later sleeps with him too, but I'm not sure).

This film is a strange one, being a crime mystery and erotica with art-house pretensions thrown in for good measure. The film starts in Stockholm where Ann (Gio Petre) murders a man in a circus ring and then switches to Ann and Eve (Marie Liljedahl) going off on a motoring holiday to Yugoslavia (modern-day Croatia). Both women are contemptuous of men yet both intend to have a good time with men: Eve especially is intent on a final fling before getting married.

The relationship between the two women is a strange one. They are supposed to be friends, yet when Eve ends up naked, drunk and out for the count on a fishing boat (Eve apparently likes a bit of rough) Ann leaves her and goes off in search of a good time in a local village. Ann also likes a bit of rough, standing almost naked at a window to tempt one of the locals. As the film nears its end, the two women have drifted apart with Eve at a weird massage parlour with a dwarf playing the piano and then getting a lift in the back of a truck with some drunken locals who proceed to give her more good times before dropping her off at Trieste, not that she seems particularly put out by her experiences.
|
Cheating Notes
---
---
---