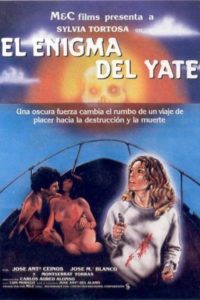 ---
Natalia and Carlos. Jorge and Blanca. Here are two couples about to go on a trip in a private yacht.

It will serve as a treatment for Natalia, who has been suffering from various mental disorders in recent times.

But soon after they are at sea, Jorge – who was Natalia's psychologist and the boat's skipper – turns up dead.

The three remaining occupants are left at the mercy of fate.
|
Cheating Notes
Note: Watched without subtitles
Natalia is the wife of Carlos while Blanca is the wife of Jorge. The two couples have dinner in Jorge and Blanca's home. Blanca goes to the kitchen and Carlos follows her, leaving Natalia and Jorge on the table. Carlos comes up behind Blanca in the kitchen and runs his hand on the exposed skin on her back. She faces him and he kisses her and they talk. She turns her back on him again and he hugs her from behind while continually kissing her on the cheek and neck. Then they do a full-on kiss. This shows us that there's an affair going on between them.
The two couples go on a trip on a private yacht. The ladies sunbathe on the deck, wearing two-piece bikinis. While Natalia is putting lotion on Blanca's back, Carlos comes in. Natalia excuses herself to get coffee so Carlos finishes her work by helping Blanca put her bra back on. After he clasps her bra in the back, Carlos grabs Blanca's breasts from behind and starts kissing her on the neck, lips, and cheek.
Natalia comes back and sees the two in a compromising position. Well, they are not exactly kissing when she sees them but Carlos' arm is around Blanca's waist while she holds his hand. Natalia is surprised but doesn't say anything about it and just gives them coffee.
Jorge fucks a sleeping Natalia
When night comes, it's Jorge's turn to score on his friend's wife. But it's not exactly consensual since Natalia is sleeping when he fucks her. He puts some sleeping drugs on Carlos and Natalia's drinks while they are playing cards. Later when the couple is sleeping, he silently enters their cabin. The two are sleeping on separate beds. Jorge checks Natalia's eyes to make sure that she is sleeping soundly. Then, he removes the bedsheet that is covering her body. He then lifts her nightgown up to expose her white panties. He runs her hand gently over her breasts, then on her legs and finally, he pulls her panties down. He takes his clothes off, goes on top of Natalia and starts kissing her. The scene cuts off but he fucks her, surely.
Info + Download Link: Wipfilms.net
---
---
---