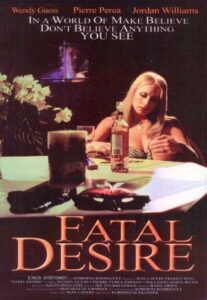 ---
Ben is a movie director. A stuntman was accidentally killed in one of his movies and he is facing a charge of negligence. Ben's wife is beautiful. A perfect woman to showcase his extravagant lifestyle, they live beyond their means. Ben finds out that his wife is betraying him. He hires someone to follow her. Rick, Sue's lover, tries to persuade her to kill Ben and make it look like an accident, so they can collect the insurance money.
More Info: IMDB
|
Cheating Notes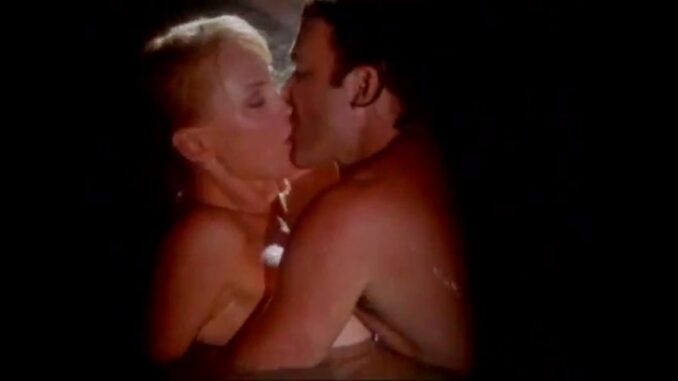 Wife: I think you're great, and the sex was great. Thank you very much! But don't think this is something more than it is!

Lover: So that's it? All this was to you was just a quick fuck?

Wife: No lover, it was very wonderful and quite a slow fuck, actually. But I can't let you murder my husband!
The director husband has been neglecting his wife lately because he has to deal with legal stuff when a stuntwoman dies on his set. He doesn't join his wife when she attends a masquerade party in a bar with some of their friends.
While at the party, a man in a mask forces himself on the wife and kisses her in an empty pool room. She slaps him, he slaps her back and kisses her again. She gives in and makes out with him (quite hot) but not for long because her husband arrives and sees them through the window while he parks his car outside. He enters the bar and confronts her about it. She asks him if he's sure that it was her and is defiant. The husband leaves.
The wife's female friend asks her if the guy who kissed her was worth the couple's fight. The wife responds to her, "You're such a slut!", in a joking and also slutty way. Then, she adds, "Actually, it was kind of a turn-on." Her friend then replies, "Uh-huh, so who you callin' a slut, slut?" And they continue calling each other slut. This is a hot slutty interaction between the wife and her female friend.
Back at home, the husband confronts the wife again about the kissing incident. She doesn't deny it this time but tells him that the guy forced himself on her. "It didn't look like he was forcing himself on you.", her husband replies. She apologizes and woos him, saying she could also have been tempted to kiss the guy because he's neglecting her lately. He softens up, but when he denies her sex, she explodes again.
The husband goes on a trip to take care of some legal stuff involving the stuntwoman's death, so the wife is alone at home in the next few days.
While buying drugs in the hood, the wife's car breaks down. A man on a motorcycle helps her and gives her a ride home. She lets him inside her home but he's giving her the creepy vibe so she rejects his innuendos and tells him to leave. When nighttime comes, she finds out that the man left his wallet while she is about to have a drink and is in her sexy black nightgown. She calls the guy's number on his ID to let him know of his wallet. He comes immediately that night, finds her drunk and in her nightgown, and this time, his creepy moves work on her in her inebriated state. They dance and make out and proceed to have implied sex.
The wife's new lover takes her on a horse ranch and teaches her how to ride horses. They have standing sex on a barn and then have sex on a bed immediately after that.
The husband returns early from his trip and finds that his wife is not at home and the house is in an uncleaned state. He also finds cigarette butts on an ashtray. He calls his wife's phone and leaves a voicemail, saying his trip will be extended for a few days, then he calls a photographer friend and tells him to spy on his wife in the next few days.
The wife has sex with her lover in the pool at her place. The photographer does his job and secretly takes photos of them.
The husband tells his wife through a note that he knows about her affair and asks for a divorce. She tells her lover about it, the lover suggests that they kill her husband for insurance money while petting with her on the couch, etc.. etc.
Watch Full Movie Online
---
---
---