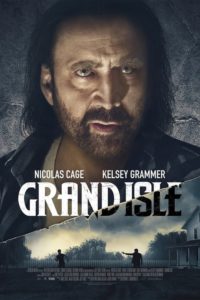 ---
Walter and his neglected wife lure a young man into their Victorian home to escape a hurricane. When the man is charged with murder by Det. Jones, he must reveal the couple's wicked secrets to save himself.
|
Cheating Notes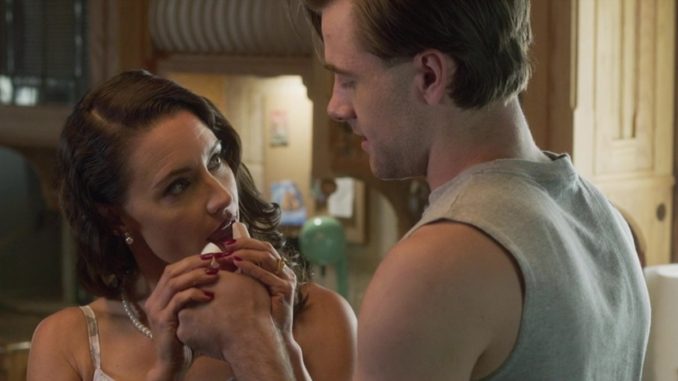 I'll look him right in the eyes while you make me cum. - wife to lover, while kissing him and squeezing his buttocks in front of her tied husband
Buddy is hired by Walter (Nicolas Cage) to repair his fence. Fancy, Walter's wife, takes notice of the young, good-looking guy and flirts with him when she gives him ice tea and when she applies first aid to his finger in the kitchen when he hits it with a hammer because he is checking her out. She kisses his finger after putting band-aid on it. They look at each other intensely and it seems that they are about to kiss but Walter, who has been observing them for a few seconds, suddenly speaks from the kitchen entrance and disrupts them.
The hurricane comes and Buddy's truck won't start so he stays and joins the couple at dinner. When Fancy goes to the kitchen to get something,  Walter tells Buddy that he knows that he wants to fuck his wife. Before Buddy can reply, Fancy comes in from the kitchen and interrupts them. She sits down again and after some time, she puts her foot between Buddy's legs under the table without her husband knowing.
After dinner, when Walter falls asleep in the living room, Fancy gives Buddy a house tour and leads her to the bedroom. She goes into the divider and changes into a sexy lingerie and proceeds to seduce Buddy. This is a very sexy part and you have to listen to their dialog for that sexiness. For instance, Fancy tells Buddy that she fantasizes about young men a lot and describes to him how her fantasy goes. While she's describing it, she runs her hand on Buddy's thigh and is about to touch his crotch when Buddy hastily gets away from her for fear of her husband who is crazy and has guns. Buddy slips and falls on the floor. Fancy stands over him, runs her stiletto on his body and uses it to unbutton his jeans. Meanwhile, Walter wakes up, goes upstairs and stands in front of the bedroom door, listening for any activity inside the room while the two stay still in their current position. The tension in this scene adds up to its eroticism. Finally, Walter moves away but his wife and Buddy don't proceed to have sex at this point.
Walter takes Buddy to the attic and offers to pay him $20,000 to kill his wife. After getting convinced by the reason that Walter gives him, he comes inside the 2nd-floor bathroom where Fancy is taking a bath. He sits beside the bathtub and talks to Fancy. She pulls him towards her and kisses him. They make out. The scene cuts off, so we don't see them have sex. Moments later we see them cuddling naked on the floor.
After some violent, confrontational scenes, Fancy starts kissing Buddy and squeezing and caressing his butts in front of her tied husband. She tells him to take her right there in front of her husband, that she'll look Walter right in the eyes while Buddy makes her cum. Buddy doesn't take her offer and tries to leave instead.
Summary
It's unfortunate that we don't see the wife and the young guy's sex scene but the seduction scene is quite sexy, so you should watch this movie for that.
Watch Trailer
---
---
---