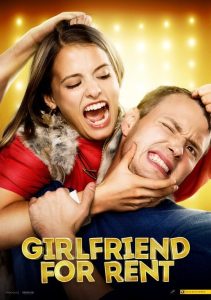 ---
Mitya (Efim Petrunin) accidentally proposes to Alisa (Svetlana Stepankovskaya), and the girl's father immediately sets the date for their wedding. The situation is complicated by the fact that Mitya still has not divorced from his ex – Vasya (Lyubov Aksyonova), and naturally, he does not want to tell his bride and her father about this. Vasya is ready to agree to a divorce only after her still lawful husband fulfills a number of conditions; one of them is that he must present her to his bride.

Mitya finds a girl, Nastya (Sofya Rayzman), who agrees to appear before Vasya as the bride. Nastya's boyfriend Maks (Roman Kurtsyn), after learning about this gets furious at first, but then agrees to also take part in this affair in return for a considerable fee from Mitya. Then the events unfold in such a way that Mitya and Nastya fall in love with each other.
|
Cheating Notes
Mitya and Nastya get carried away while dancing and they kiss (56:34) while Nastya's boyfriend is hanging out with a guy in the sauna.
Vasya, Mitya's estranged wife, seduces Mitya's friend in the sauna (1:04:25). She is able to get naked all the way (strategic nudity, but we see her tits from the side) and kiss the guy and lick his face, but they are interrupted by Mitya and Nastya -who are playing some musical instruments outside to disrupt them- as well as the guy's wife who just arrived. The wife chases the naked Vasya and beats her up when she catches her.

---
---
---