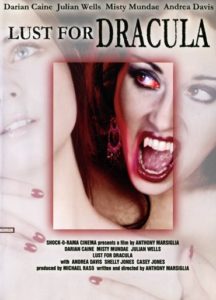 ---
Mina Harker isn't the happiest of Hollywood Hills wives - even though she's married to wealthy pharmaceuticals magnate Jonathan Harker. The repressed Mina longs for Jonathan's love and the happiness a child would bring them, yet the arrival of the beautiful and mysterious Dracula - seductive vampire servants at her side - will change their lives forever. Dracula offers Mina the sensual existence she so desperately craves - one that is immediately threatened by Mina's sister, Dr. Abigail Van Helsing. Van Helsing seeks to not only destroy the monstrous vampire but covet Mina's seemingly perfect life and husband Jonathan, too. As these troubled characters move ever closer toward their destinies and a final battle with Dracula, blood will be spilled, souls will be destroyed, and love will become undying.
|
Cheating Notes
Movie's weird/surreal. Mina's husband is played by a woman. Dracula is also supposed to be a man in the movie but is played by a woman, too.
IMDB Review
Forlorn young Mina (an endearingly loopy turn by the ever-adorable Misty Mundae) is stuck in an unhappy marriage with stolid and controlling pharmaceutical tycoon Jonathan Harker (a fine portrayal by the lovely Julian Wells).
Mina encounters Dracula (exquisitely embodied by the gorgeous Darian Caine) when she longs most for a child and falls under Dracula's wickedly alluring spell. Writer/director Tony Marsiglia brings a peculiarly arresting dreamy'n'heady style to the offbeat premise and does an expert job of carefully crafting a deliriously erotic atmosphere.
Of course, we also get oodles of tasty bare female skin and loads of smoking hot girl-on-girl action, with a steamy and tender poolside love scene between Mina and Dracula rating as the definite sensuous and arousing highlight.
Moreover, Marsiglia's "try it, do it" experimental avant-garde approach gives this movie a truly inspired sense of all-out pervasive weirdness: Caine and Wells both play their characters as men (Wells even does a from behind sex scene with Mundae!), Mundae's wacky little bat bat monologue is simply jaw-dropping, and towards the end there's without a doubt one of the freakiest attempted rapes to ever grace celluloid.
The cast of yummy babes keeps things sultry and watchable throughout: Besides the mighty troika of Mundae, Wells, and Caine (and how can one really go wrong with these three?), there's the foxy Shelly Jones as the lusty and willful Abigal Van Helsing, the delicious Andrea Davis as the predatory bloodsucker Sarah, and cute Casey Jones as enticing and vulnerable teenager Beth. Dang Lenawae's sumptuous cinematography gives the picture a stunningly opulent look. Don Mike's moody score alternates between wonky ambient noise and smooth jazz. An intriguing oddity.
Watch Full Movie Online
---
---
---