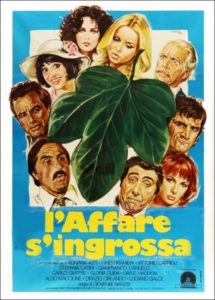 ---
It happened in Naples - A tourist, deceived by Carmine, believes he is buying a 14-year-old virgin but is instead sold to a homosexual.

Tonight or never - The rich but aging Bislecchi, rejected by the beautiful Gigia (Gloria Guida), is "rejuvenated" by Dr. Himler and becomes a robot.

The amnesty - Milcare, under the pretext of consulting a beautiful lawyer, possesses her under the eyes of her colonel husband, sure to enjoy an imminent amnesty.

Gennarino the emigrant - In Germany with his wife Anna, Gennarino works as a stallion of the lowest category for porn movies. But only when he has his wife in front of him as a partner is he able to perform.

Exchange made in Germany - Nicola and Sisina, Sicilian barons, go to Germany for an "exchange of couples", Sisina is renitent; but when her husband manages to uninhibit her, she does more than him.
|
---
---
---