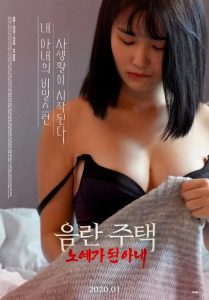 ---
Hyun-jeong, who moves into an apartment building with her new husband, is delighted with her unexpected luck when she observes that her new place is properly soundproofed. Because she had suffered a lot from noise problems between floors in her previous place, she wanted a quiet house with proper soundproofing. Perhaps because most of the occupants in her new place are dual-income couples, the building is as quiet as a ghost town.

"Are people even living here?"

Due to her curiosity, she snoops around in her new neighborhood and finds out that the walls between units are not really soundproofed well but that her neighbors are just holding their breath while having sex.

Every time she leaves the house and comes back, she sees vivid traces of someone entering her house and leaving BDSM outfits and equipment around. She rushes to the management office to report, but the building manager tells her that there had been no intrusion by outsiders, and a warning sign from residents is posted on her front door, which says: ※ Warning - I know you're newlyweds, but let's live quietly!

Hyun-jeong feels suffocated at the thought that someone is watching her every move. What the building manager knows about the secrets and weaknesses of the women in the apartment, which enables him to rule over them like an emperor, is slowly revealed...
More Info: TMDB
|
Cheating Notes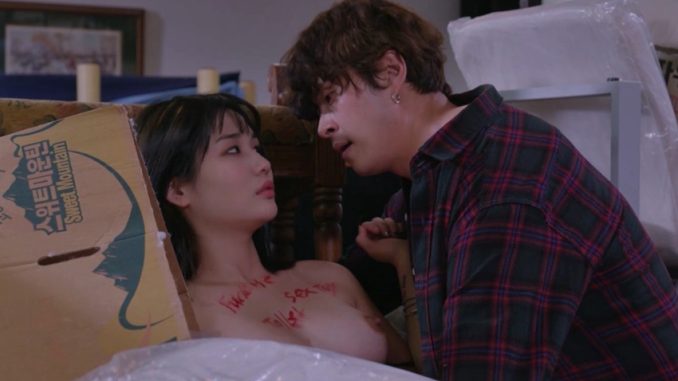 I don't know what the building manager has on the wife which enables him to sort of blackmail her and make her do sexual favors for him. Is it in her dialog with another woman he's fucking ( who he could be blackmailing too) (41:09) that he is able to catch on CCTV? Or is it related to the BDSM outfit and stuff that is left in her place by an unknown person, possibly the manager himself? Maybe he will claim that they're hers and he threatens to tell her husband about it?
At 52:44, after the manager assists the wife's drunken husband to her place, and after the husband has dozed off, the manager makes her unzip his fly in the bathroom and makes her watch his dick as he pees. Then, he makes her suck his dick and afterward, he fucks her from behind in a standing position.
The next day, the manager makes the wife come into his 'office' wearing black lingerie and with some words written on her back and chest with lipstick. Needless to say, he fucks her.
At the end of the film, the wife is about to leave the place, but it seems she can't resist the manager now so she comes to his office, finds him and the other woman fucking, and joins them for a threesome.
---
---
---