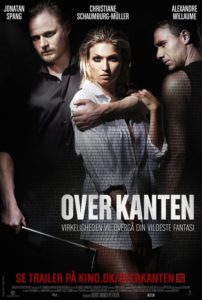 ---
Just as David and Freja arrive at their newly bought country house close to the Cliffs of Møn the harmony is disturbed by an inexplicable suicide. When David realizes that their new craftsman Roar is linked to the person who fell off the cliff he starts being suspicious. David is also certain that Roar is hitting on Freja. She denies this and all Davids theories. David joins forces with the widow Veronica to solve the case and prove to Freja that he is right. But the closer he gets the truth the further away he gets from Freja. David has to risk everything to unveil circumstances that go far beyond his imagination...
|
Cheating Notes
This is one of those movies where reality is mixed with imagination to keep you guessing so I suggest you watch it. I would categorize this as a cheating situation that did not really materialize. Well, in the backstory there was a cheating wife (Veronika), but in Freja's case, she dumped David first before going with Roar, but the events leading up to there might interest you.
Computer developer David and his fiancee Freja buy a house in the country. It turns out that the house needs a lot of repairs so they hire Roar after he offers them a cheaper cost than the other handymen they talked to.
Roar asks to sleep in their shed for the duration of his work so that he can start working early in the mornings.
There are a few instances when David is imagining something happening between Freja and Roar. Like, David imagines Freja and Roar swimming together and holding hands at the beach. He also imagines Roar giving Freja a shoulder massage while they are having a campfire.
One day, David learns from Roar that Freja gave him a hat. When he asks Freja about it, she tells him that it was Berte, the storekeeper, who gave it to Roar and Berte just told her to pass it to him. This ends up with Freja in her panties rummaging through their garbage bins looking for a store receipt. Roar wakes up and sees the naked Freja (except for her panties) during the commotion.
David interviews Veronika, the wife of the guy who fell off the cliff at the beginning of the movie. Veronika is saying that she had an affair with Roar when they also hired him to repair their house and it may have something to do with her husband's death.
After her interview with Veronika, he goes home and asks Roar, who is helping Freja cook dinner at the time, to leave. He is convinced that Roar killed Veronika's husband. Freja objects to it, telling David that there's something wrong with him. David calls the cops, asking them to evict Roar from his place. But since Freja doesn't want him to leave, and she has the right because she lives in their house too, the cops can't do anything. Freja also breaks it off with David, telling him he has changed and is the one coming between them, not Roar. David leaves while Roar stays in the house where Freja is. I think that is as good as cuckolding to me, as it seems that Freja has already picked the brutish Roar over the nerdy David.
Later, David peeks from a hole in the attic of the house and sees Roar trying to get intimate with Freja while they're drinking. Freja says no to Roar, telling him that it's too soon after David. So yeah, maybe Freja didn't really have cheating sex with Roar.
In the finale part of the movie, Freja is pregnant and is with Roar while David is in a mental hospital. David says it's his baby but we're not sure about that.
---
---
---