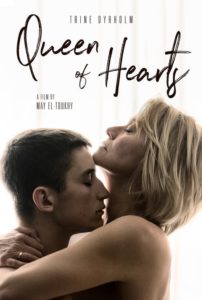 ---
A woman jeopardizes both her career and her family when she seduces her teenage stepson and is forced to make an irreversible decision with fatal consequences.
|
Cheating Notes
The stepson comes to live with his dad and his stepmom. At first, he acts like he doesn't wanna be there with his dad's second family. But when he robs the house, his stepmom gives him two choices: either she tells his dad and ultimately, the cops about his crime, or he starts making an effort to live with them. He chooses the latter, which is what his stepmom wants, so he gets closer to his stepmom and her two little daughters.
The stepson takes a swim with his stepmom and her kids in the lake.  After that, he has a drink with her in the living room. They really bond and become closer here. They touch each other a little here and there (harmless). She notices his tattoo, so he inks a little one on her arm.
The couple has some friends come over for lunch. After lunch, the stepmom sits outside the house while her husband and their friends are still talking in the balcony. Her stepson comes out and tells her that he is going to smoke. When he asks her if she wants to come, she says yes. Not only do they smoke, but they even go to a bar and drink. The stepmom becomes really flirty here when talking to his stepson. If it isn't flirting, at the very least, she isn't talking to him the same way she did before. When the stepson tells her that she has to go, she kisses him on the lips. It's just a light kiss, but I guess it is already inappropriate because he is surprised by it.
When the stepmom arrives home, her husband is pissed because of her leaving earlier without telling him. She doesn't tell her that she was with his son in a bar, drinking, smoking, and flirting with him.
The family plays hide and seek. The stepson comes to the spot where the stepmom is hiding. A tension emerges in the silence between them and he touches her arm and shoulder in a meaningful way.
Stepmom gives her stepson a blowjob
That night, the stepmom couldn't sleep, thinking of her stepson. Her husband is not home that night. Finally, she makes a decision and comes inside her stepson's room. She gives him a blowjob. This isn't supposed to be porn but we really see her put her stepson's dick into her mouth and suck it. She then turns around and assumes the doggie style position. He proceeds to fuck her from behind. This is a very erotic scene.
The stepmom becomes more aggressive with her husband in bed, thanks to her stepson. She slaps him while they make love, which she didn't use to do before.
The stepmom and her stepson have sex in the bathroom while her two daughters are playing a video game in the living room. He eats her pussy and then fucks her on the sink. Her husband arrives so they have to stop. She's still gasping for breath when she talks to her husband in the kitchen.
Stepmom and stepson have sex in the woods, but we only see the post-coital scene.
The two have sex in the bedroom, after which, the stepson interviews his stepmom and records it on a tape recorder.
During a party, the stepmom's sister sees her and her stepson kissing.
The stepson confesses to his dad about his affair with his stepmom. His dad confronts his wife. She denies it, saying his son just wants attention. Dad doesn't know what to believe. Our hypocrite cheating stepmom becomes defensive and turns the table on her husband, even slapping him for thinking that she's a monster.  Her ploy works, he hugs him, accepting her side as truth.
The husband kicks his stepson out of his house. The stepson tries to come back but his stepmom rejects him. A couple of months later, they find his body in the woods and it seems that he had frozen to death. The stepmom's conscience eats her up. She tries to hide her sluttiness so that she won't lose her family, but a kid dies because of it.
Summary
Very erotic. The relationship of the stepmom and stepson has progressed properly, believably and well enough that by the time she puts his dick into her mouth, it isn't awkward anymore and is instead hot. What's even greater is that we really see her suck the kid's dick for several seconds.
---
---
---