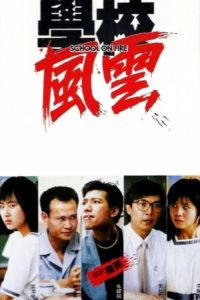 ---
A young schoolgirl, Yuen Fong (Fennie Yuen) becomes caught in a tragic stranglehold of triad activity after she testifies in court over a triad beating. When this news reaches the triad leader Brother Smart (Roy Cheung), Yuen Fong must pay him protection money for what she has done as events begin to escalate.
|
Cheating Notes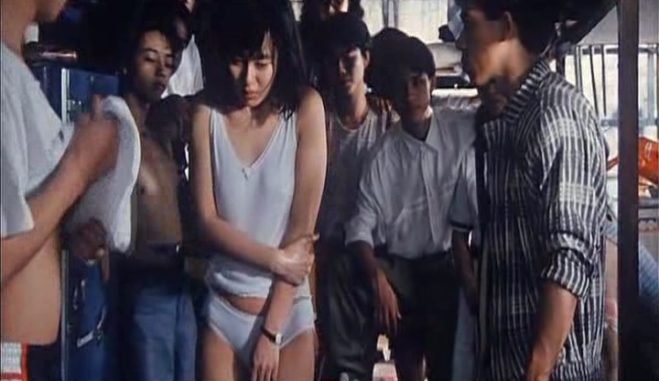 Yuen Fong (Fennie Yuen), because of her testifying, is forced to pay a certain amount by triad leader Brother Smart. He also makes her strip down to her undershirt and panties in front of his goons. Scar, one of Smart's goons, becomes her husband later in the movie (or at least they lived in the same place and he calls her 'wife').
One day, Smart visits the couple, angry at Scar for not showing up for work lately. Also, he's there to remind Yuen that her account is not settled yet. Scar tells Smart that he'll be paying for Yuen's debt and leaves the house first to resume working (selling drugs) so that he can start repaying his wife's debt. After he leaves, Yuen asks Smart to not force her husband to sell drugs and that she will pay her debt back herself. Smart asks her how she will be able to do that. We don't hear what they discussed further, but the answer is for her to be a prostitute. She steps into his car, while Smart's henchman steps out. This probably means Smart needs alone time with Scar's wife to test if she is ready for prostituting. Of course, testing means fucking her.
Unfortunately, we only see a glimpse of Yuen's prostituting. We see her lying down, covered with a sheet, when she gets interrupted while servicing a client inside a room.
When Scar finds out that Yuen had been prostituting, he confronts her and asks her why she did it. She says that his boss forced her into it to pay for her debts. I think it's a lie. I think she knew exactly what she was getting into. She also tells Scar that Smart raped her. In the uncut version of the movie, the subtitles say that he laid over her. I tend to believe that the boss did not rape her. Sure, maybe she is forced into doing it because she hates the boss' guts so much, but I'm sure she was given a choice by him: either to become a prostitute but he must fuck her first, or to be not, and let her husband deal drugs instead. She chose the former, so that means she gets to be fucked by the boss. Sadly, we didn't get to see that part.
In the final confrontation, Smart tries to rape Yuen in front of Scar, who is being held down by Smart's goons. He lays her on top of a classroom table, rips her clothes and is about to fuck her, but he gets interrupted by a machete-wielding character.
Watch Full Movie Online: Youtube.com (No Subtitles)
---
---
---