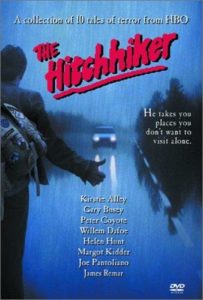 ---
A series of mystery-thriller stories, linked only by the character of The Hitchhiker, who would introduce and close each episode in the style of Rod Serling or Alfred Hitchcock. Occasional stories involved supernatural forces, but most plot twists stemmed only from the dark side of the human spirit.
More Info: IMDB
|
Cheating Notes
TV Series with sex and nudity. Some of the episodes have cheating wives in them.
The Hitchhiker S01E10 A Time for Rifles -  Lew and Joe clashing with each other over Lew's fetching wife Rae, whom both men are in love with.
The Hitchhiker S01E04 Lovesounds - Kurt Hoffman neglects his lovely young wife Veronica. The sad and unloved Veronica has an extramarital fling with Eric Dunlap, who's the hunky young electronics whiz who has installed a state of the art sound system in Kurt's lavish secluded lakeside home
The Hitchhiker S01E08 Petty Thieves - Mickey aspires to work as a drug runner for slimy big time drug lord Joey Stregga. In order to achieve this goal Mickey has to set up his sweet and innocent ex-hooker girlfriend Pearl on a date with Stregga.
The Hitchhiker S01E11 Man at the Window - Arthur Brown uses state-of-the-art electronic equipment to record the private conversations of other people. Brown gets in over his head when his latest subject Diane Hampton turns out to be having an extramarital affair with lesbian photographer Carla Magnuson.
The Hitchhiker S01E12 Hired Help - Lovely, but cold and ruthless businesswoman Kay Mason runs a garment factory where she treats her illegal Mexican immigrant workers in a very cruel and inhumane manner. Kay more than meets her match in the form of Victor, a handsome and mysterious young Mexican whom Kay develops an immediate amorous interest in.
The Hitchhiker S01E19 Ghostwriter - Struggling writer Jeffrey Hunt fakes his own death in order to achieve literary immortality. His unfaithful wife Debby has been having an adulterous affair with Jeffrey's publicist and best friend Tony Lynch.
THE HITCHHIKER Dead Heat - A sculptor uses a drifter and his own abused girlfriend to recreate a murder/suicide.
The Hitchhiker - Joker (not sure if there's cheating)
THE HITCHHIKER Cabin Fever - A young gigolo stays with a washed up film director and his lonely abused wife on an isolated island.
The Hitchhiker 3 01 The Martyr - A faux blind woman uses a young man obsessed with her to get rid of her husband.
The Hitchhiker 3 08 Code Liz - Jane works for a company that provides various online services including sex chat with an online sex operator. Her deadbeat husband Robert obsessively chats with operator named Liz. Liz urges him to kill his wife, saying that she is cheating on him. Or is he imagining it?
THE HITCHHIKER Perfect Order - not a cheating episode, I think, but Virginia Madsen's in it
---
---
---