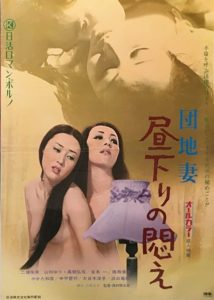 ---
About a couple and the wife's younger sister who live in a housing complex. Because the wife suspects that something's going on between her husband and her sister, she is lured into sinful temptation.

Kiyoshi Kikuchi, his wife Chizuko, and Chizuko's sister Setsuko live together in a housing complex. Setsuko gets along well with Chizuko because she is just like Kiyoshi. One day, Mrs. Abe, Chizuko's neighbor, tells her that something is going on between Kiyoshi and Setsuko.  Chizuko gets influenced and begins to suspect the relationship between the two. When she sees Setsuko vomiting in the bathroom one day, suggesting that she might be pregnant, her suspicion deepens. One day, she meets Fukuda in a bowling alley. Because of her vulnerability due to her worries about her husband and her sister, she commits a sin with him. And she is even forced to prostitute herself, although she relishes the physical relationship it brings. Meanwhile, Setsuko is pregnant not because of Kiyoshi, as Chizuko suspects, but because of Setsuko's co-worker, Hiroshi Asai. Setsuko is putting the pressure on Hiroshi to marry her. She confides all of this to Kiyoshi, which might explain why they are seen in intimate moments sometimes. Kiyoshi comes home with Setsuko to tell her what's happening and to hear her opinion. However, right at that moment, Chizuko is about to jump from the roof of the apartment complex...

4th in the Nikkatsu Roman Porno's Apartment Wife series.
More Info: IMDB
|
---
---
---