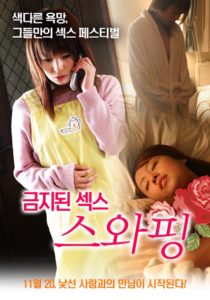 ---
Takashi is bitter because he feels that his wife Sayuri is becoming more of a homebody as time goes on. On the other hand, the couple Takeda and Manami, both college pals of Takashi, have a satisfying sex life. Takeda tells Takashi that the secret to their healthy sex life is wife swapping. One day, Takeda and Manami invite Takashi and Sayuri to their house to have a drink. Takashi gets drunk and makes a statement that his wife Sayuri is a big homebody now, not fun in bed anymore. The shocked Sayuri decides to improve for her husband and visits the swapping scene with the help of a female friend..
|
Cheating Notes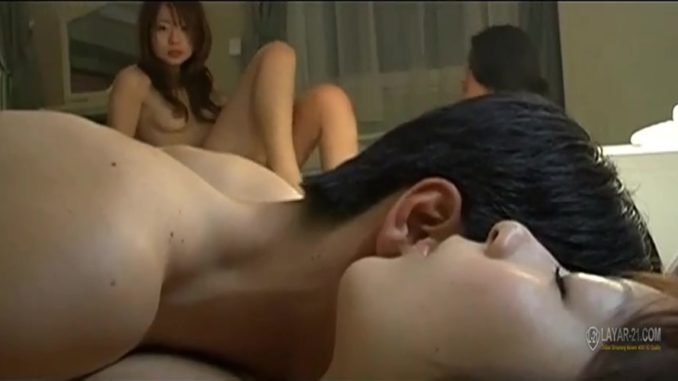 Takashi is bitter because she feels that her wife Sayuri is becoming more of a homebody as time goes on. On the other hand, the couple Takeda and Manami, both college pals of Takashi, have a satisfying sex life. Takeda tells Takashi that the secret to their happy sex life is wife swapping.
Takashi is surprised at Takeda's revelation. Takeda then invites him to have sex with his wife, to which Takashi agrees, and so he has sex with Manami in front of Takeda in a hotel room, and then they have a threesome with her.
Sayuri tries to swing behind her husband's back to improve her skills in bed
Meanwhile, Sayuri strives to be better in bed for her husband, so she asks for advice from an older female friend, sort of like an aunt to her. Her friend introduces her to erotic websites and then introduces her to swinging. To break Sayuri in, her friend brings her to a hotel room to have a threesome with two guys. At the same time, Takeda also tells Takashi to come with him because there's this woman who likes to experience a threesome. To Sayuri's surprise, the two guys that come up to her hotel room are Takeda and her husband. The two guys, especially Takashi, are surprised too. Sayuri, feeling ashamed, runs out of the room. Takashi tries to stop her but fails.
The two couples meet and swap wives
Takashi talks to Sayuri at their home and he tells her that he's not mad, that they should in fact explore sexually to save their sex life. With that, they decide to swing with Takashi and Manami. The two couples meet in a hotel room. Takeda starts having sex with Sayuri while Takashi looks on. Manami also starts to work on Takashi.
When Takashi sees his wife moaning with pleasure as Takeda eats her out, he gets jealous and stops Takeda. Sayuri pacifies him, telling him that they should proceed with it to save their marriage. But she probably is just liking Takeda's cunillingus so much that she wants to resume it as soon as possible. After she calms her husband down, she lies down again and let Takeda resume eating her pussy. Takashi also starts having sex with Takeda's wife, Manami.
Manami begins suspecting that her husband and Sayuri are meeting and fucking secretly
Takashi and Sayuri's relationship improve after that, but the opposite is true with Takeda and Manami, as Manami feels that something is bothering Takeda and she gets a cold shoulder treatment from him. One day Takeda forgets his phone after leaving for work. It rings so Manami answers it. It is Sayuri on the other line. Manami gets worried more, now thinking that Takeda and Sayuri maybe meeting and having sex behind her and Takashi's back. She inspects Takeda's phone more while he is taking a bath and sees more logged calls from Sayuri.
Manami talks to Takashi and tells him about her suspicion towards their partners. After that, she comes home and looks at the pictures of them three together in college. Through her recollection, we learn that Takashi also liked her in college and even tried to kiss her, but she refused, and  chose Takeda because she likes him more.
Takashi visits Manami at home and they have sex on the couch
Takashi visits Manami at home. He tells her that her suspicions might be true. He starts sexually attacking her on the couch, telling her that if their partners are doing it, then they should, too. Manami resists him at first, trying to still be loyal to her husband, refusing to have sex without his knowledge even if he's already sharing her with other men. But eventually she gives in to the pleasure and lets Takashi fuck her with just a bit of resistance.
Manami feels really guilty in the next days. Maybe part of her guilt is that she isn't really sure if Takeda and Sayuri are cheating on them. And thus, it means that she's the only one who's cheating on her husband.
The two couples meet again, Manami confesses
The two couples meet in a hotel room again to have sex. Manami feels so guilt-ridden while looking at her husband and Sayuri having sex and while Takashi is also working on top of her. Finally, she can't hold her guilt anymore. She kneels and bows in front of Takeda and confesses that she had sex with Takashi without him knowing.
Takeda, Takashi and Sayuri reveal to Manami that they had set her up. They tell her that her husband giving her the cold treatment, the call of Sayuri in Takeda's phones as well as her logged calls in it, are all part of an act so that she will cheat and have sex with Takashi. They also reveal to her that they even have a camera set up in the living room and hence, Takeda and Sayuri was able to watch them fuck.
Hearing this revelation, Manami is a little pissed, but she is relieved too, now that she knows that she is not a total slut. As a bit of revenge to her husband, she starts sexually attacking Takashi on the bed. Takeda does not get mad but smiles instead, and she also starts having sex with Sayuri on the other bed. If Manami was a little reluctant fucking Takashi on the couch, she is now very willing and gives him a really good fuck because now she knows that she's not a cheating little whore as much as she thought. She gives him a blowjob and goes into a 69 position with him so that he can also eat her pussy at the same time. Sayuri also does her best and rides Takeda furiously.
Summary
I like how Manami, one of the wives, wants to remain loyal to her husband even if he had already made her have sex with other men and she suspects that he is cheating on her. I like it that she feels guilty when she has sex with another guy without her husband's permission. That makes her cheating more erotic to me, as compared to, say, a cheating wife that doesn't have any remorse at all, especially given the circumstance that she's already being shared by her husband.
I adore you Manami. You're not a slut wife, and hence, it's sweeter to see you have sex with a man that is not your husband.
Watch The Swapping Game 2006 Full Movie Online
---
---
---