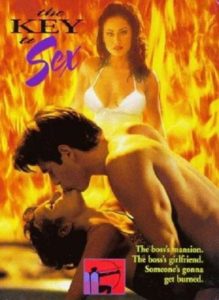 ---
When brainy office assistant Simon is left in charge of the boss' Hollywood mansion, the weekend becomes an opportunity of a lifetime. Entrusted by power-hungry movie producer Alan to guard the estate, Simon thinks he's finally made the grade until he learns that his friends and co-workers have their own plans for the place...
|
Cheating Notes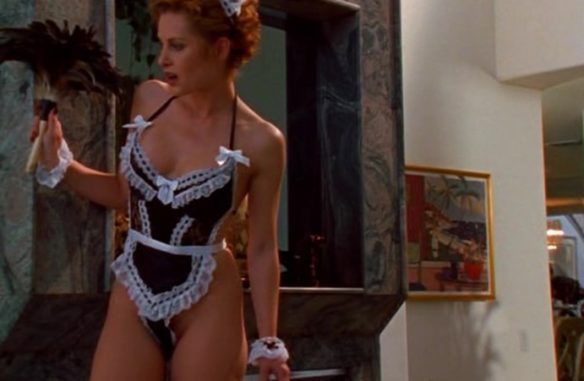 First, there's Christy (Maria Ford), the girlfriend of Alan, Simon's boss. When Simon drops by at his boss' mansion one morning, Christy welcomes him rather playfully, and even drops her robe before entering the shower to give him a little show. A few days after Alan has left for a business trip, Simon catches Christy having some lesbian action with a friend beside the mansion's pool.
Near the end of the movie, Simon stays overnight at the mansion because he falls asleep on a table while doing some work. He is woken up in the morning by Christy, dressed in white boxers and a shirt, who tells him that she has decided to leave Alan. While she is packing her things, Simon makes a move and kisses her. She accepts his advance since she admits to him that she's attracted to him too. They have sex in the bathtub. When she asks him where this is all coming from, he tells her "because she's not the boss' girl anymore." Nevertheless, since Alan still doesn't know that she is breaking up with him yet, and she gets fucked right inside his house, and by his trusted assistant of all people, I guess you can still consider him cuckolded.
Second, there's Tina (Monique Parent), mistress of Simon's second boss, Michael, who is kind of an asshole. Tina is waiting for Michael at Alan's mansion and initially mistakes Simon for him. Simon explains to her that it is not Michael's mansion but Alan's, and the reason that Michael brought her there and not to his real address is because he is married. Tina is shocked, and as the night goes on, she warms up to Simon and has sex with him.
Then, there's also Carrie (Jeannie Millar), a receptionist at Simon's place of work and also another mistress of Michael. She is the one that Simon really has the hots for. Along with a female stripper (Jacqueline Lovell) that Simon's male friend hired, she does a striptease in front of Simon and his friend when egged on, getting her down to her bra and panties. But other than that, she never really cheated on her lover and so Simon never really scored with her (even in the end when she decides to leave Michael for good).
Watch The Key to Sex 1999 Full Movie Online
Server 1

Server 2

---
---
---