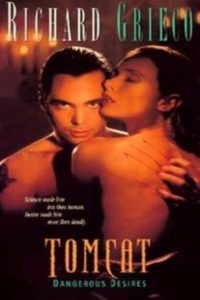 ---
Jacki, a scientist involved in genetic research, meets Tom, a young modern dancer who is suffering from a degenerative nerve disease. Jacki experiments with using genetic material taken from a cat to cure him, but the cure has side effects, and Tom begins to take on feline characteristics that may turn him into a monster. The situation is further complicated by Tom's attachment to Imogen--and Jacki's growing jealousy as she fears the loss of her patient and lover.
|
Cheating Notes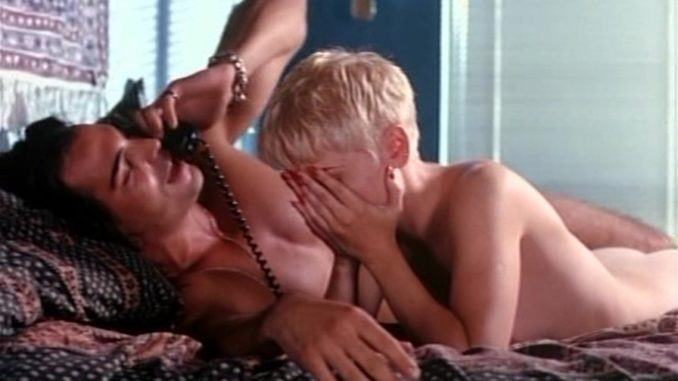 After fucking his girlfriend Jacki (Maryam d'Abo) at his place, Tom gets a ride from Imogen (Natalie Radford), his partner at the ballet theatre. Dale, her boyfriend is with her and is on his way to the airport. We hear from the couple's conversation that Dale has just proposed to Imogen but she rejected him.
After dropping Dale at the airport, Tom and Imogen kiss in the car. But Imogen is like holding off, like she won't go with him to a hotel before their rehearsal.
After their rehearsal, Imogen and Tom go to a hotel room. She takes her shirt off, they start petting, they go to the bed and pet more, but they don't have sex this time.
Meanwhile, Dale apparently did not go through with his trip but instead he rents a car at the airport and follows his girlfriend and Dale to the hotel. He tries to go to their room and confront them but he changes his mind.
Still on the same night, Dale and Imogen go to a club and they dance lewdly, with their bodies touching, and they kiss. Jacki is there, sees them kissing and confronts them. One of the questions she asks Imogen is, "Don't you have a boyfriend?"
Imogen leaves the club without telling Tom. She calls him later from her boyfriend's place (she lives with him) and has a one-sided phone sex with him, i.e. she moans and groans but Tom is not really phone sexting her but instead is asking her repeatedly where she is so that he can come to her and fuck her. She doesn't tell him but eventually, Tom finds out where she is. He comes to her and fucks her on his boyfriend's bed but we don't see that.
In their after-sex scene, Imogen and Tom are on the bed fully naked. She gets on his back, they make out, she hugs him and we see her boobs and pubes. While they're talking, Dale calls. Tom answers the phone in spite of Imogen's objection, basically announcing to Dale that he is in his house and has just fucked his girlfriend on his own bed.
No pumping action between Imogen and Tom but we do see Imogen fully naked and she looks sexy in her after-sex cuddling with Tom. Tom has a sex scene with Jacki at the beginning of the movie and it's quite hot.
Watch Full Movie Online
---
---
---