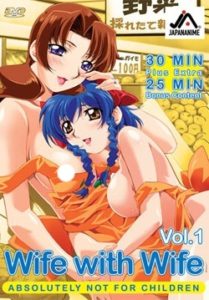 ---
Story 1: This is a Housewife Supermarket!

Koutarou is the manager and the owner of Sakura Market. He took over this business after his father passed away. Sakura Market is a nice independent supermarket, however, is in jeopardy of being taken over by a large supermarket corporation, Kaneyu. The ironic scenario is that the take over act is being masterminded by Koutarou's true brother, Taiyou!

Story 2: This is a Newlywed Paradise!

Yuusuke and Akira are newlyweds and tonight is their first night together. Things are getting heated up in bed, but Yuusuke has a little problem… he can't 'do' it! His wife, Akira, tells him that it's okay, but Yuusuke is not going to accept that as an answer, and who can blame him?
|
Cheating Notes
In episode 1, Koutarou fucks Touko, a married female employee in their family store, as her punishment for some work-related mistakes she did. The first time he screwed her was when she wasn't working yet at the store and was just a customer. He delivered her groceries to her house and she seduced him and made love to him while her baby was sleeping nearby.
There's no cheating wife in Episode 2, only a cheating husband.
Episode 1
Episode 2
---
---
---