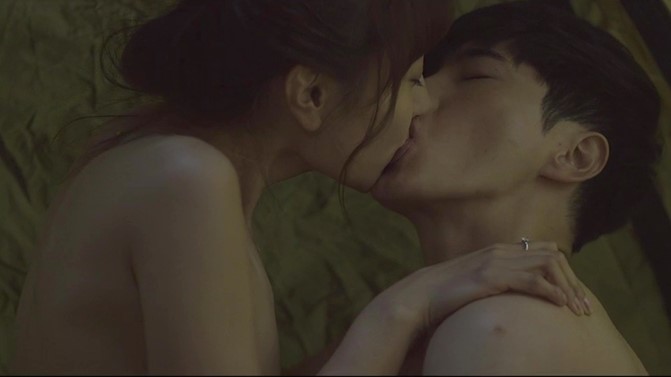 Description
"Shall we go on a trip?"
Jin-wook and So-ri have been dating for 6 years. So-ri randomly suggests that they should go on a trip along with her best friend Mi-ra and her boyfriend Gyeong-hoon. It is because she promised Mi-ra before that the four should go on a trip together once Mi-ra has a boyfriend. Jin-wook does not feel comfortable with her plan because he appears to be not interested in So-ri's friend at all. However, he unwillingly decides to go on the trip. As Jin-wook heard that Mi-ra and her boyfriend will be bringing all the camping equipment and fishing gadgets, he does not make an effort to bring anything. He only packs the reading materials he needed for his thesis in his backpack so that he can work on the thesis that he has been preparing for the last few years continuously. While So-ri is not happy about Jin-wook who has been complaining about every single thing, she is surprised to see how sweet Mi-ra's boyfriend is. Also, So-ri becomes tired of Jin-wook's immature behaviors. Mi-ra's boyfriend Gyeong-hoon has prepared everything for the camping trip including the tent rental, fishing, and cooking. He is just a perfect guy with such a considerate manner towards his girlfriend Mi-ra. Jin-wook, unhappy with the situation, makes a sarcastic comment about Gyeong-hoon for working as a DJ at a club. From Jin-wook's point of view, Gyeong-hoon is nothing compared to his career as a teaching assistant, who is preparing for his master's degree at the age of 35. Because So-ri feels sorry for not preparing anything for the trip, she helps Gyeong-hoon cook the meal diligently, while Mi-ra, who is often hypocritical, stays inside their tent along with Jin-wook and shares her secret personal stories, among others, with him.
Details for the movie Prohibited Sex, Sweet Revenge (2015)
Other Title: 금지된 섹스, 달콤한 복수
Director: Lee Soong-hwan
Starring: Kang Eun-bi, Jang Ha-ram
Genre: Asian Erotica
Country: South Korea
Language: Korean
Cheating Scenes in Prohibited Sex, Sweet Revenge (2015)
Note: Watched without subtitles.
First, read the synopsis above to get the gist of the story. Now, what is not particularly clear in the synopsis is that So-ri seems to already know that an affair is going on between her boyfriend (Jin-wook) and her female friend (Mi-ra). Because at the start of the movie, we see her secretly follow the two around while they eat and date. I think she sets up the camping trip for the four of them, including Mi-ra's boyfriend Gyeong-hoon, so that she can catch Jin-wook and Mi-ra actually cheating. In fact, she secretly hires two bumbling detectives to catch and gather evidence against the two if they do the dirty deed at the camping site.
On the first night of their camping trip, Jin-wook tries to immediately score with Mi-ra by leading her towards a secluded path while their respective partners go fish in the lake together. Mi-ra refuses him at this time, because she might be telling him that their partners might easily catch them. So that night, it was Mi-ra's own boyfriend who fucks her inside their tent, while So-ri gets rejected by her boyfriend at their own tent when she tries to initiate sex with him.
Mi-ra and Jin-wook fuck in the woods
The next day, Jin-wook says that he's going to take a walk in the woods and even picks a fight with So-ri before leaving. Mi-ra volunteers to go after him, maybe telling So-ri and Gyeong-hoon that she will try to pacify him. She follows Jin-wook into the woods, and try to pacify him she did. They start making out and then start having sex in the woods. A little later, So-ri and Gyeong-hoon follow them, calling out their names. The two stop fucking and hide, nearly getting caught by their partners.
Although So-ri and Gyeong-hoon didn't catch Jin-wook and Mi-ra having sex, the two bumbling detectives did. They were also able to record a video of them fucking. They show it to So-ri, who in turn, shows it to Gyeong-hoon. He is pissed and wants to angrily confront the two. But So-ri stops him, telling him that they will get their sweet revenge soon.
Mi-ra and Jin-wook fuck inside the tent
On the next day, Gyeong-hoon pretends to go somewhere and tells So-ri to come along with him. As soon as they leave, Mi-ra goes inside Jin-wook's tent and has sex with him. Unknown to them, Gyeong-hoon and So-ri are just standing outside the tent and can hear the sound of their fucking. I think Gyeong-hoon did this to personally confirm that his girlfriend is indeed a cheating slut.
So-ri gets her revenge
So-ri gets her revenge, but unfortunately, not in the way that I would have hoped, which is to have revenge sex with Gyeong-hoon. They did kiss a bit when they become alone together inside the car, but it was very brief and has no fap value. So-ri did not get naked nor did she have any sex scene in this video (not even with her boyfriend), which is a shame really, because she is cute and seems to be packing some tight, decent curves beneath her clothes. Mi-ra provided all the sex and nudity in this film, she's ok.
Anyway, So-ri's idea of revenge is to take the car and all of Jin-wook and Mi-ra's clothes while they are having sex inside the tent and leave them. This leaves their two cheating partners with no clothes and no ride home.
More info for Prohibited Sex, Sweet Revenge (2015)
Info: Hancinema.net
Watch Online: Xvideos.com