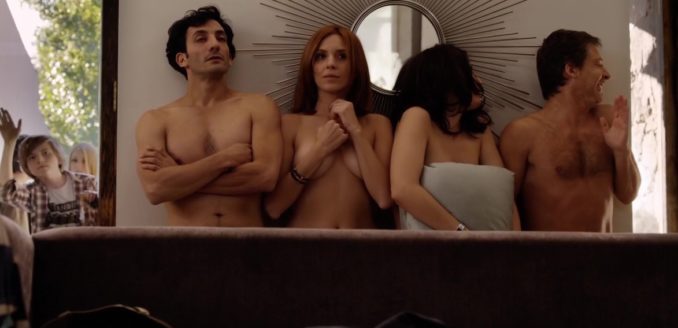 Description
When the fun of double dating begins to grow old, Richard and Bettina share a dirty little secret with their friends Diego and Emilia: They live a double life as swingers and would love to share this practice with them.
Details for the movie 2 + 2 (2012)
Other Titles: Dos más dos, 2+2
Director: Diego Kaplan
Starring: Adrián Suar, Carla Peterson, Julieta Díaz
Country: Argentina
Language: Spanish / English Subtitles
Swinging / Cheating Scenes in 2 + 2 (2012)
The couples Diego and Emilia and Richard and Betina are close friends. During one dinner, Betina reveals to Emilia that they are into swinging. Emilia ponders about this and gets curious. She tells it to Diego and suggests that maybe it's what they need in their relationship. Diego does not want to be part of it but is forced to try because he sees that Emilia really wants it and Richard also does some reverse psychology on him.
To get a sampling of the scene, Diego and Emilia go to a swingers' party that Richard and Betina are attending. During the party, the hesitant Diego tries to avoid a few wives who are hitting on him while Emilia seems to be comfortable and having fun in the pool in her two-piece, with two men beside her and their hands all over her. Diego pulls Emilia away from them and they leave. Emilia gets very horny and tries to give him a blowjob on the drive home.
First swinging date
After a few days, Diego agrees to go to dinner at Richard and Betina's place, with the condition that it's just a rehearsal and that they're not gonna actually swing. While on the way, Diego accuses Emilia of being horny for Richard, that's why she wants them to swing. Emilia tells him that if he wanted to fuck Richard, she would have already done it a long time ago as she had a thousand opportunities to do so. Later, Diego also accuses Richard that maybe he wants to bang Emilia, that's why he set up all of it.
The dinner, which is supposed to be a rehearsal as far as Diego is concerned, turns into full-time swinging, with Diego being hesitant until the moment he makes out with Betina and sees his wife making out with Richard.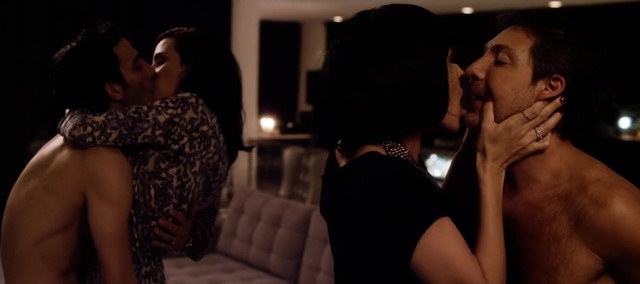 Second swinging date
On their next swinging date, they do it at Diego and Emilia's home. They have foursome sex in the living room, but we don't get to see that. We only see the morning after, where they are all sleeping naked, with Richard and Emilia sleeping on the couch, his hands cupping her boobs, and Diego and Betina sleeping on the rug.
Suddenly, Diego and Emilia's young son comes home, which he isn't supposed to do as he is supposed to stay overnight at his friend's house and not come home that early. The four naked friends nearly get caught.
Richard and Emilia cheat
Betina confides to Emilia that she thinks that Richard is cheating on her with someone. Apparently, that someone is Emilia. Richard and Emilia are fucking behind Diego and Betina's back. One time after having sex, Emilia tells Richard that she's falling for him. But Richard tells her that he is not in love with her and that he remains in love with his wife Betina.
Betina finds out that it was Emilia whom Richard is cheating with and confronts her at Diego and Emilia's home in the early hours of the morning. She makes a scene and naturally, Diego finds out that his wife is a cheating slut, despite entering into a swinging setup with their closest friends.
Final Thoughts
We have two hot wives here, with my preference leaning more towards Betina (Carla Peterson). The swinging scenes were doing fine, but I got really excited when Emilia started fucking Richard without Diego's knowledge. The movie doesn't actually have sex scenes, and although there are full body nudity, they are strategic and you won't see a full display of boobs or pussy. But don't worry, the sexy scenes are sexy despite that.
More info for 2 + 2 (2012)
IMDB Info: IMDB
Watch Online: Archive.org