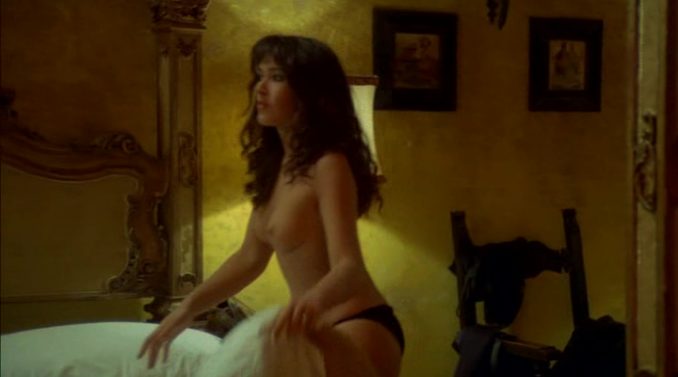 Description
A couple ( Lilli Carati and Vincenzo Crocitti) has to rent a hotel room which is really a haunted house. Well, haunted is overstating it. Just old Renzo as a horny ghost who wants to get it on with Lilli Carati. Sexual frolics abound, Carati takes baths and has sex and hubby fulfills his role as a cuckold.
Details for the movie There is a Ghost in My Bed (1981)
Other Titles: C'è un fantasma nel mio letto (Original Title)
Director: Claudio Giorgi (as Claudio De Molinis)
Starring:  Lilli Carati, Renzo Montagnani, Vincenzo Crocitti
Genre: Comedy
Country: Italy
Language: Italian with English Subtitles, English Dubbed
Cheating Scenes in There is a Ghost in My Bed (1981)
Adelaide (Lilli Carati) and Camillo go to England for their honeymoon. They try to get a room at an inn but it's full so Terence, the owner of the inn, directs them to a castle nearby. The castle is haunted by a horny baron, Sir Archibald. The couple has no choice but to go to the castle. They are greeted by the castle's human caretaker, the Baroness, a descendant of Sir Archibald.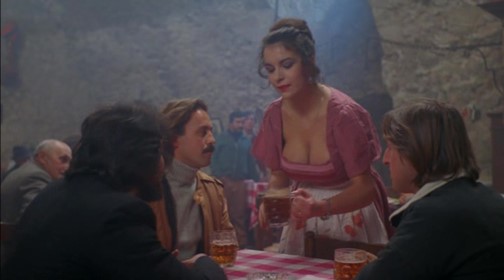 Adelaide gets slapped in the tub
The couple settles in the room that the Baroness gave them. Adelaide takes a bath in the tub and is touched and slapped on her butt by the invisible Sir Archibald a few times. She thinks it's her husband who's doing it and scolds him.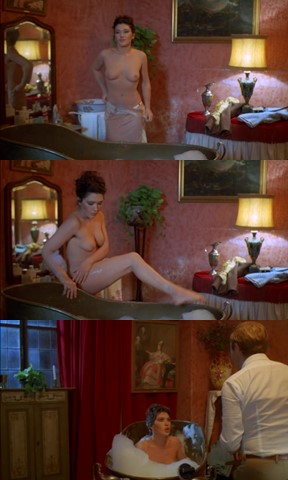 Terence's wife gets stripped
In order to have food for their guests, Sir Archibald and his servant Angus (also a ghost) steal food from Terence's inn. In order to do that, he distracts Terence and the inn's male clients by ripping the clothes of Terence's busty wife (Marianne) in front of all of them.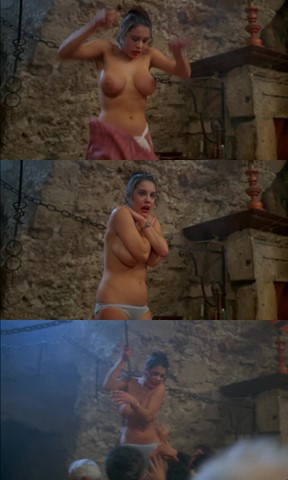 Adelaide gets fingered in the dining table
The couple dines with the Baroness. Sir Archibald goes under the table and starts pleasuring Adelaide between her thighs. Adelaide thinks it's her husband again and wonders how he can do it when his two hands are visible to her. She thinks maybe he's using his feet. Adelaide starts moaning and reaches orgasm while trying to act normal in front of her husband and the Baroness.
Sir Archibald puts some sleeping potion in Camillo's drink.
Sir Archibald fucks Adelaide
After dinner, the couple goes inside their room to consummate their marriage. But it's Sir Archibald who does the honors, replacing Camillo who passed out due to the sleeping potion. He fucks Adelaide while Camillo is passed out on the floor. Adelaide thinks that the sex is great but also thinks that it's her husband that she made love to.
A little later in the night, Sir Archibald comes back inside the couple's room, hypnotizes Camillo out of the bed and into the floor and fucks Adelaide again. Camillo wakes up and sees that someone seems to be fucking his wife under the sheets. Sir Archibald comes out of the sheets and introduces himself to Camillo, who passes out again.
In the morning, Camillo vaguely remembers what happened last night. He kind of remembers that Sir Archibald introduces himself to him, but Adelaide tells him that it's all a dream. She also tells him how great in bed he is, but he doesn't remember fucking her, so he starts suspecting that something is up.
Terence's wife and Camillo are caught in a compromising position
Sir Archibald torments Camillo and makes his motorcycle crash. Bruised and disheveled, Camillo goes to Terence's inn to ask for help (with his motorcycle accident and also to fix his car whose tires Sir Archibald punctured). Terence is not currently there so she is received by Marianne. She brings him inside their bedroom and tells him to take off his ripped clothes inside the bathroom. She will let him borrow her husband's clothes for now.
Sir Archibald has a mischievous plan for the two, however. He throws an insect inside Marianne's blouse, which makes her strip down to her panties in trying to lose the bug off. Terence comes home and sees his wife and Camillo naked inside their bedroom. He thinks that they just finished fucking and he starts to sharpen his razor, intending to castrate Camillo. Camillo manages to escape through the window.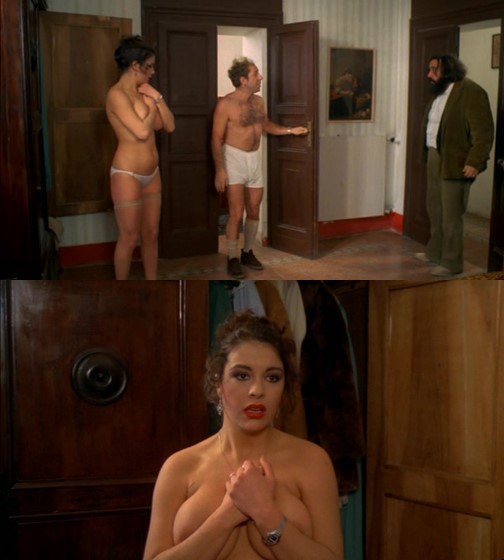 Sir Archibald fucks Adelaide again
Camillo and Adelaide are about to fuck again, but Sir Archibald disposes Camillo by throwing him down a hole inside the cabinet and fucks Adelaide in his place for the second time. Adelaide is enjoying the sex but Sir Archibald suddenly disappears in the middle of it, plus she notices that he has a beard while her husband doesn't have it.
Adelaide runs to the Baroness' room. The Baroness confesses and explains everything to her. She says that Sir Archibald is one horny great-great uncle of hers.
Adelaide makes a deal with Sir Archibald
Sir Archibald appears to Adelaide and apologizes to her. She makes a deal with him. She says that she will have sex with him one last time if he can assure of Camillo's safety (who is still missing at this point).
Sir Archibald goes out of the room to make sure that Camillo's all right and when he comes back, she sees Adelaide in a seductive pose on the bed, flirtatiously smiling and eagerly waiting for him. It seems that she's going to be happy fulfilling her end of the deal. Well, Sir Archibald did give her great pleasure after all so she's looking forward to it.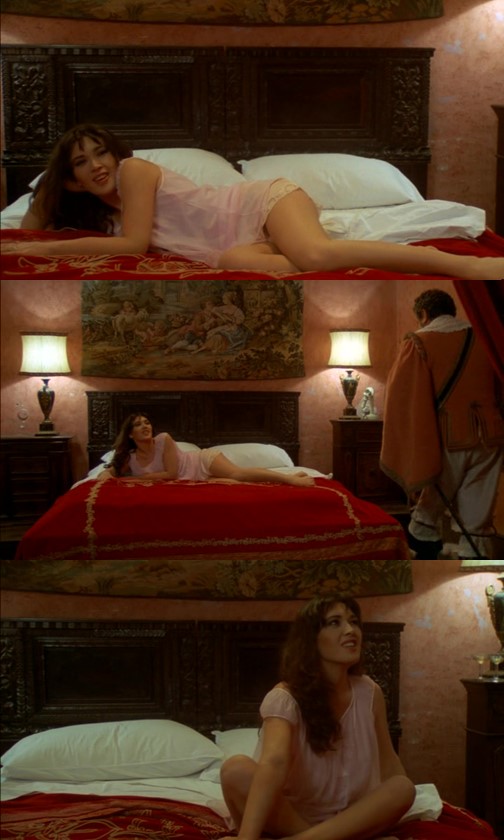 If Adelaide's previous sex sessions with Sir Archibald weren't cheating because she thought that she was with her husband, well this time she definitely knows who she is going to fuck. She clearly intends to cheat. Even if she's doing it for her husband's safety, she would have offered something else other than sex if she doesn't really want the Baron's dick inside her again.
Unfortunately, though, Sir Archibald gets knocked out due to drinking a sleeping potion (tricked by his vengeful servant), so he isn't able to fuck Camillo's hot wife one last time.
Camillo gets the last laugh
Sir Archibald's servant makes Camillo drink the aphrodisiac potion. Camillo gets very horny and simultaneously fucks his wife and the Baroness. Meanwhile, Terence and his wife Marianne arrive at the castle to tell Camillo that his car is ready. Terence doesn't want to go in and sends his wife instead. When Marianne enters the castle, she encounters the still horny Camillo running around like crazy. He strips her down to her panties and humps her a bit on the stairs.
Final Thoughts
This is one hot Italian 80's sex comedy. Like Sir Archibald, I wish I have ghost abilities too so that I can easily have my way with other men's hot wives.
More info for There is a Ghost in My Bed (1981)
Info + Download Link: Rarelust.com