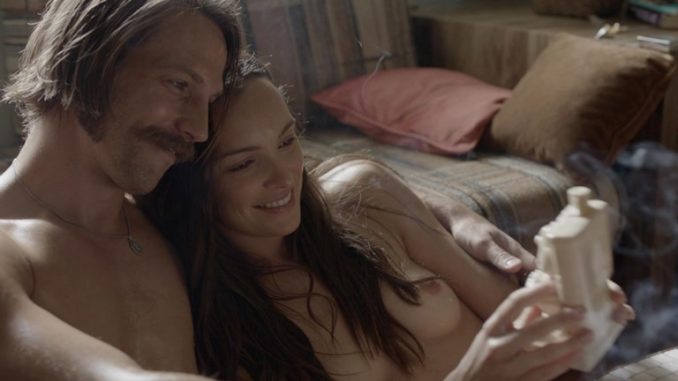 Description
Quarry is a TV series starring Logan Marshall-Green, Jodi Balfour, and Damon Herriman. Quarry, a disillusioned Vietnam War vet, returns home to Memphis in 1972 only to find rejection and scrutiny at every step. A mysterious man known only as The Broker gives him an offer he can't refuse – to work for him as a hitman.
Details for the TV Series Quarry (2016)
Creators: Michael D. Fuller, Graham Gordy
Starring: Logan Marshall-Green, Jodi Balfour
Number of Episodes: 9
Country: USA
Cheating Scenes in Quarry (2016)
Season 1 Episode 1
Conway just arrived from Vietnam and is planning to surprise his wife, Joni (Jodi Balfour). His fellow soldier Arthur advises against it, telling him that he might be the one who will be surprised when he finds some jackass "flopping around on top of her".
When Conway gets home, fortunately for him (and unfortunately for us), he finds his wife alone and no jackass is flopping around on top of her. They then proceed to have a nice wife-husband sex.
Conway catches his wife cheating
Later in the episode, Conway has become a hitman and is tailing a target. He is shocked to see the target drive to his home (Conway's home) and enter it. He exits his car and listens to the target and his wife talk in the living room. Their dialogue definitely tells him that the target is his wife's lover and that they started their affair when he was on tour in Vietnam. He starts crying when his wife and the target start making out. The target takes his wife to the bedroom and helps her takes her shirt off her (she has no bra and is already just in her panties). He pushes her onto the bed,  unzips his fly and lays down on top of her.
Conway moves to the bedroom's back window and witnesses his wife getting fucked by his supposed target. It turns out that his friend, Arthur is right. He did find some jackass flopping around on top of her, but it just came at a later time.
Final Thoughts
The wife has a great ass. There's a nice scene in the kitchen where her naked backside is clearly on display. The cheating makeout/sex scene is very hot, I just wish that we have seen more of it as it was quite brief.
More info for Quarry (2016)
IMDb Info: IMDB
Watch Online: Youtube.com
Info + Torrent Download Link: Torrentz2.eu