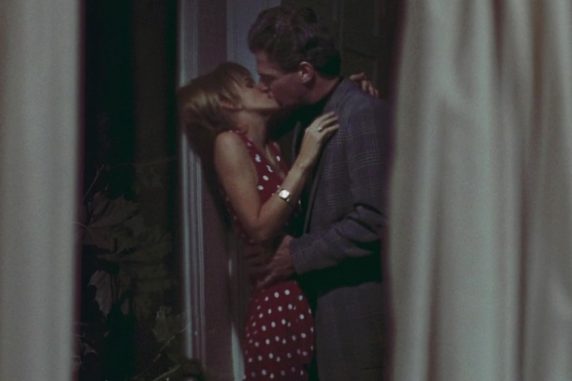 Description
An obese attorney is cursed by a gypsy to rapidly and uncontrollably lose weight.
Details for the movie Thinner (1996)
Director: Tom Holland
Writer:  Stephen King (novel), Michael McDowell (screenplay)
Starring: Joe Mantegna, Robert John Burke, Lucinda Jenney, Kari Wuhrer
Country: USA
Cheating Scenes in Thinner (1996)
One night, Billy hits a female gypsy while driving and getting a blowjob from his wife Heidi (Lucinda Jenney) at the same time. The father of the gypsy curses him, which causes him to uncontrollably lose weight that will lead to his death.
He starts consulting his doctor friend about his weight problem. One late night after coming home, he sees the doctor leaving his house. When he enters his home, he begins to imagine the doctor and his wife kissing (we get a brief visual of that imagination). He doesn't ask his wife why the doctor was there.
Just after a funeral, the doctor tells Billy that Heidi told him about his supposed curse. Billy tells him that his wife surely tells him a lot these days, insinuating that he and Heidi are quite close recently. They have an argument, and when Billy steps inside his car, Heidi and the doctor talk really close to each other, with the doctor even holding Heidi's hands while they talk about Billy's mental state. It could be nothing, just the doctor pacifying Heidi, but Billy sees this and gets pissed.
Later that day, when Billy gets home, he sees the doctor's car parked in front of his house. He enters silently and hears them talking in the living room. They're talking about some kind of legal action regarding him. Billy enters the living room and sees the doctor's hands are on his wife's legs.
Later in the movie, Billy calls his home and his daughter answers. She tells him that the doctor is there with Heidi in the kitchen. Then, we see Heidi coming out of the kitchen, fixing her shirt, suggesting to us that she may be doing some frisky stuff with the doctor in the kitchen, but then it's not conclusive, she could just be really tucking her shirt in and her blazers are even still on.
Final Thoughts
So did Heidi cheat on her husband with the doctor or not? I don't know. We didn't see them kiss or have sex except in the husband's mind. The hardest evidence would be the doctor being able to put his hand on Heidi's leg. You can argue that no wife can be comfortable having another man's hand on her leg like that unless she is already fucking him. Or you can also argue that maybe she was really just distraught at that time because of her concern about her cursed husband, so she doesn't notice that the doctor's hand is already on her legs. At the very least, I can safely say that the doctor wants to bang the wife and is grabbing all the chance to touch her.
More info for Thinner (1996)
IMDb Info: IMDB
Info + Torrent Download Link: Torrentz2.eu