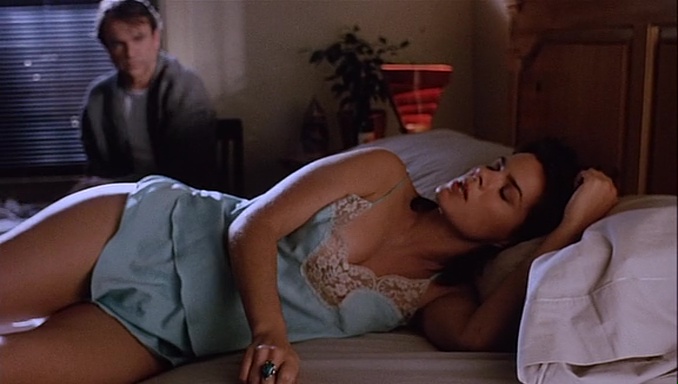 Description
Fresh out of prison, all Ray wants is to get back with Lacy, but she's in a stable relationship now with Elliott, a pacifist, and wants nothing to do with him. When she's kidnapped by Ray's former associates, he and Elliott must team up to save the woman they love.
Details for the movie Fever (1991)
Director: Larry Elikann
Starring: Marcia Gay Harden, Armand Assante, Sam Neill
Country: USA
Cheating Scenes in Fever (1991)
Ray (Armand Assante) gets out of prison and wants to win back his ex-girlfriend Lacy (Marcia Gay Harden). Lacy, however, is already married to Elliott (Sam Neill), a lawyer. She tells Ray that her dope days are over and she is now happily married. Ray does not want to give up easily though.
One morning, Ray comes knocking on Elliott and Lacy's house. He sits with the couple and informs Elliott that he is going to see Lacy in the next few days to chat with her because he doesn't want to go behind Elliott's back (in trying to steal his wife). He says he'll try for three months, and if she still wants to be with Elliott by then, then he'll yield. He declares that these are the rules without the couple even agreeing to it. Lacy tells Ray to leave.
Later in the day, Ray calls Elliott in his office to tell him that he'll see Lacy later. Elliott asks him sarcastically if he's keeping him posted while he tries to steal Lacy back. Ray does see Lacy later. He waits for her outside her place of work and asks her if she can drive him home. She reluctantly agrees. When they reach his home, he invites her in. She refuses at first, but when Ray tells her that he told Elliott that he'll be seeing her and that Elliott didn't say anything much about it, she agrees and comes with him inside his apartment.
Inside Ray's apartment, things get emotional with them when Lacy reveals to Ray that she sold their daughter for $2000 instead of putting her up for adoption and that she didn't tell him that because he might get mad at her. Ray says of course not because he loves her, but he's probably just saying that so that he can get in her pants at that moment. It kind of works. Lacy comes closer to him and they kiss passionately. Ray is able to take Lacy's clothes off her shoulder and is able to kiss her cleavage a bit. But when he comes down to get to work on her lower body, she stops him and tells him that she has to go.
When Lacy arrives home, Elliott is waiting for him with a glass of alcoholic beverage in his hand. He asks her if she fucked Ray. Lacy says no, which is true, but she didn't tell him that she made out with him a little.
They start to have an argument. Elliott forces himself on her and tells her to look at him while he fucks her. After a while, Lacy starts moaning and getting into it. After their sex, Elliott asks her if Ray was in her mind when they were fucking. She tells him that Ray is her past but she's with him now because she chose him (Elliott). He raises his voice and tells her "Why don't you tell him to fuck off?" She snaps back and asks him the same question "Why don't you tell him to fuck off?"
So Elliott sees Ray to tell him to fuck off. It doesn't work well as Ray stands his ground.
Lacy is kidnapped by Ray's former associates. One of them tries to rape her while her hands are tied. He is able to squeeze her boobs but with her clothes on and kiss her but another thug stops him. Later, the same thug tries to rape her again. He gets down to cutting her shirt and bra with a knife, thereby exposing her breasts. He gets to kiss her breast and her lips once but Ray and Elliott arrive in time to save her.
In the end, Lacy chooses Elliott.
Final Thoughts
Lacy should have fucked Ray, not just make out with him.
More info for Fever (1991)
IMDb Info: IMDB
Info + Download Link: Rarelust.com