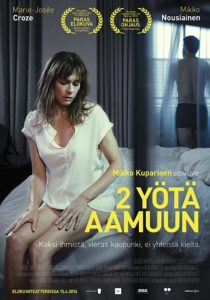 ---
Caroline, a French architect in Vilnius, Lithuania, on business, has to spend an extra night in the city due to a delayed work meeting. At the bar of her hotel she meets Jaakko, a Finnish DJ who is in Vilnius for a gig. Caroline lets him understand that she doesn't speak English, and Jaakko doesn't speak French. Although they lack a common language, they find themselves enjoying each other's company...
|
Cheating Notes
Watch Full Movie Online
Uncut version (dubbed, no subs)
14:30 - One-night stand between the chick (whose partner is also a female) and the DJ. They kiss and have implied sex, after which we see her walk around the room topless and in her panties.
Cut version, with subtitles (4 parts) (nudity is removed but in English with subtitles)
---
---
---