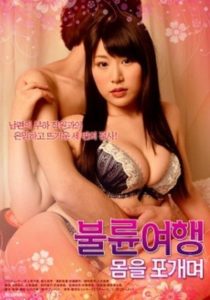 ---
Noriko and Keiichi are married and they met while working in the same company. They don't seem to have problems, but in fact, Keiichi is impotent for two years now, so they are a sexless couple. Nakajima is a co-worker of Keiichi and is a former lover of Noriko five years ago. He has not forgotten Noriko who spent a hot night with him. Nakajima, reunited with Noriko by chance, confessed that he hasn't forgotten her yet. Noriko, who has been sexually frustrated for the past few years, is also attracted to Nakajima who looks at her with pure eyes. (This is a Google Translation, just enhanced, so it may not be accurate)
|
Cheating Notes
The wife and her ex-lover meet, and then we see them have sex. It seems to be a flashback sex scene (most likely) but it could be current, meaning the wife is cheating on her husband already. The wife invites her ex-lover to have dinner with her husband.
The wife and her ex-lover hang out in the park. The husband arrives and sees them. He seems to be a bit mad and a little jealous.
The three talk in the vehicle. I guess they talk about the couple's sex problem and stuff. They decide to do something about it. They go to a hotel room and the husband lets the ex-lover fuck his wife while he watches.
After the wife is done fucking her ex-lover, she fucks her husband and makes her ex-lover watch them this time. The ex-lover seems to be more bothered and more jealous than the husband when it is his turn watching them.
The couple's sexual problem is solved.
I like this one. The wife watching is quite erotic and the wife is quite hot with firm, yet jiggly boobs. I also find it kinky when the ex-lover watches and becomes more jealous than the husband like he's the one being cuckolded and not the husband. His reaction makes it look like it's the husband's victory, not his, when in fact, he is the one who just fucked somebody else's wife.
Info / Watch Full Movie Online: Fullasianmovies.com
---
---
---