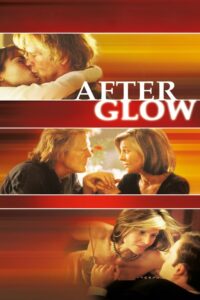 ---
A handyman with marital problems meets a housewife with the same.

Two couples are unhappy with their respective relationships: first of ambitious businessman Jeffrey Byron and sexually frustrated Marianne and second of repair contractor Lucky Mann and former B-movie actress Phyllis. When Lucky arrives to Byron's apartment to make some minor repairs and Marianne becomes obsessed with him, the everyday balance breaks.
|
Cheating Notes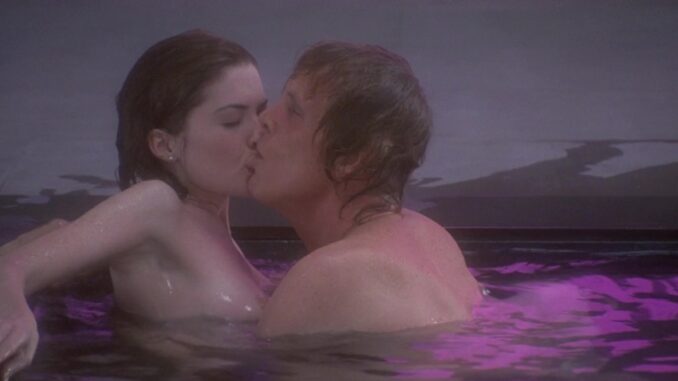 "I love the way you smell. Like a man. My husband smells like soap." - wife to the handyman
A neglected, sex-deprived, young wife of a young businessman fucks the handyman, an old man who's got game. Meanwhile, the wife's husband's preference is older, mature women (shown when he always checks out and compliments his mature secretary) and he also starts an affair with the handyman's classy, mature wife. As to up to where it leads, read below.
Marianna, the young wife, and the handyman's first lovemaking is at 47:00, at Marianna and her husband's place in an upscale hotel. They make out first while standing and then they fuck in the bathtub. They then go to a pub on the first floor of the hotel. There, Marianna kisses the handyman in public. Meanwhile, Phyllis, the handyman's mature wife is also there and sees all of it from a corner but doesn't make a commotion. She's aware that her husband is a woman's man.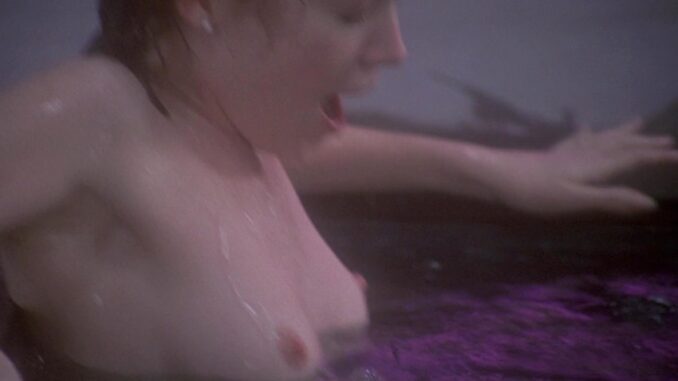 Jeffrey, Marianna's husband, goes to the pub to see who she's with but she already left with the handyman. He then notices the handyman's wife in the corner and likes what he sees. Not only is she pretty (a former b-movie actress) and mature-looking (his preference), but she dresses well too and is classy and has an English accent when she talks, which he finds out when he sits beside her and talks to her. He drives her home and kisses her several times in the car along the way. She is resistant, in a hard-to-get way, but she does let his last kiss linger longer as she is about to step out of his car.
When Phyllis enters the door to her home, she breathes a sigh of relief and feels sexy (looks sexy too, so don't miss this part) and confident because of the fact that a young guy wants her. She tries to initiate sex with her already sleeping husband (they are not having sex for a long time already). He rejects her, which elicits a violent reaction from her, and this also makes her decide to take Jeffrey's offer to go with him on a business trip. When they reach their destination, she makes out with him in the car willingly. But still playing hard to get, she tells him that they are going to be staying in different hotel rooms.
During dinner, Phyllis tells Jeffrey, his business associate, and his business associate's mistress a story of how she cheated on her husband (who is in the navy then) with her co-actor. She said that she and the actor somehow ended up together hiding inside a closet for an hour, and that's where she got pregnant with him and had a daughter. She told her husband 15 years later, and he wasn't able to handle it smoothly, especially realizing that her daughter isn't his. Jeffrey's business associate becomes attracted to Phyllis and expresses his interest to pursue her to Jeffrey, Jeffrey gets mad which sours their business deal.
Jeffrey comes to Phyllis' hotel room and initiates a kiss with her (1:23:53). She obliges and they make out while going down on the bed. A knock interrupts them, however, and the guy on the door is Jeffrey's associate, also there to try and fuck Phyllis. The two men start to fight again. Although Phyllis rejects the associate, she does it in an open-ended sort of way ("Maybe another time.."). This, or something else, turns Jeffrey off and he doesn't fuck her.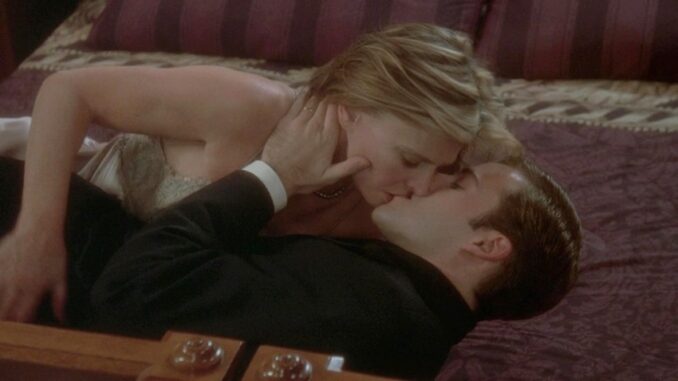 The two couples have a confrontation, first at the pub on the first floor of the hotel, and then at the young couple's place. After the heated confrontation, the young couple gets aroused and has sex on the couch (only the initial part shown).
Review from the forum
Lara Flynn Boyle is hot as fuck in this flick! She is the wife of a dashing executive. They love each other a lot, but recently, they haven't been having sex due to his work. We get to see Lara seduce her husband in a white satin gown, but the dickhead rejects her.
The old man, Nick Nolte, is a handyman who fucks all his clients. When Lara hires him, she is already horny due to lack of sex with her husband. When Nick, the handyman, comes to her house to refurnish her room, he starts flirting with her. She too unconsciously flirts back a bit, but we can see that she still loves her husband.
Then one fine day when the handyman is working at her house, Lara (wearing a satin bra inside her white shirt with hot black trousers) brings him refreshments and they start talking and flirting. She suddenly becomes conscious of the sexual tension and decides to leave. But the wrinkled old guy grabs her from behind and kisses her luscious hair and glowing cheeks. His hands rove over her breasts and under her trousers. Then he moves her around and eats her mouth like a savage, his hands now squeezing her ass. The scene cuts to them having naked sex in the bathtub. Amazingly hot! (source)
---
---
---