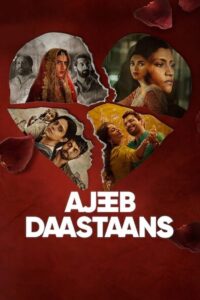 ---
An anthology of four stories that explore the surprising ways in which unexpected catalysts inflame the uncomfortable emotions simmering under fractured relationships.


First story

Babloo (Jaideep Ahlawat) marries Lipakshi (Fatima Sana Shaikh) but tells her that he loves someone else so he will never sleep with her. Lipakshi, becomes defined by her unsatisfied sexual needs and roams around her mansion flirting with any male in sight. Babloo ignores her hypersexual behaviour, but if any man gets caught trying to get cosy with his wife, the offender's genitals are fried in hot oil as if he were an onion pakora.

Enter Raj (Armaan Ralhan), Babloo's driver's son, who is tall, muscular and dashing. Lipakshi is drawn to him, and the two begin a torrid affair, but clearly all isn't well and doesn't end well.

2nd Story

Khilauna tells the story of a housemaid Meenal (Nushrratt Bharuccha) who works in homes that seem to be part of a gated community and uses her income to pay her little sister Binny's (Inayat Verma) school fees. The two live in a room that is powered by an illegally acquired power connection. When she loses power, literally and metaphorically, Meenal decides to switch jobs and take up work at Mr Aggarwal's (Maneesh Verma) home who is the society's secretary and seems to spend his day driving around on a motorcycle sporting Raybans. Meenal, who is having an affair with Sushil (Abhishek Banerjee), mouths problematic lines like, "Let him ogle at me for a couple of hours while I clean, as long as I get electricity back in my home."

3rd Story

Bharti Mandal (Konkona Sen Sharma) is a blue-collar worker in a factory where she is the only woman operating the machines. She is also Dalit and lesbian – making her thrice as marginalised; and Neeraj amplifies her social isolation by her long walks home alone, and the absence of any friends or family members in her life. Bharti has been hoping to get a job as an accountant in the office, a move she feels will uplift her status in society as well. Though angry and upset when she sees another woman, Priya Sharma (Aditi Rao Hydari) get her job, Bharti befriends Priya when the latter has lunch with her, the only other woman in the building.

Priya's innocence and naivete form an interesting foil to Bharti's more cynical and worldly-wise view. Priya is fair, beautiful, and from an upper caste family, but as we learn, her privilege is also her imprisonment. She is battling confusion over her sexuality, and just when the two share a tentative romantic moment, Bharti learns that there are other yawning gaps between them that their friendship cannot bridge.

The twist in this tale creeps up on you, and then punches you in the gut with an iconic last scene that features an unforgettable tea cup. Neeraj does not set it up like a museum exhibit and then direct you there. He slowly builds up to the climax through his characters and the chillingly believable reality of how women often turn oppressors to escape oppression.

4th Story

Natasha (Shefali Shah) is an upper middle-class homemaker who is struggling to keep the peace at home. She has a teenage daughter who is losing her hearing, and a husband who refuses to learn the sign language or accept the situation. When she accidentally bumps into a photographer, Kabir (Manav Kaul) who is hearing impaired, the two develop a friendship that blossoms into love, all while communicating using the sign language.
|
Cheating Notes
Watch Trailer
---
---
---