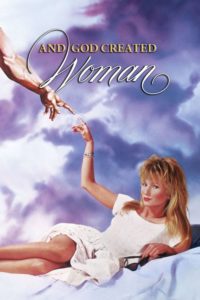 ---
In this variation on director Vadim's own, more acclaimed Et Dieu Créa La Femme (1956, the same title in French), the vamp Robin Shea marries charming carpenter Billy Moran, only to get out of prison, but soon decides to seduce James Tiernan, who runs for state governor.
|
Cheating Notes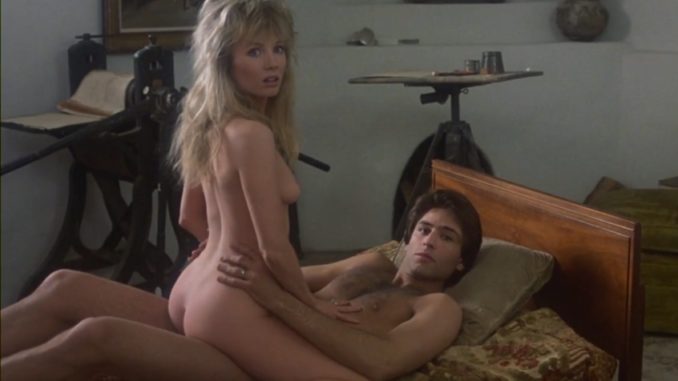 Robin Shea (Rebecca De Mornay) is a convict in a New Mexico prison. She manages to escape but mistakenly hitches a ride in the limo of James Tiernan (Frank Langella), a politician who was visiting the prison as part of his campaign for governor. He returns her to the prison in secret. While changing back into prison clothes, Robin meets Billy Moran (Vincent Spano) a carpenter and handyman who is doing work in the compound under supervision that is supposed to keep him isolated from the female inmates. Billy helps Robin temporarily hide from the guards, and they have sex in a standing position.
Robin learns who James Tiernan is from a political ad on television where he talks about his strong stance on prison issues. She manages to call him at his campaign headquarters, asking for help on her upcoming parole hearing. James gives her advice, one suggestion of which is that she gets married. Robin approaches Billy, offering him five thousand dollars to marry her for a year so she can get out of prison. Billy accepts, they are married and Robin is released not long after.
Robin moves in with Billy, who also lives with his older brother Peter and Billy's unruly six-year-old son Timmy. Initially, there is a clash of personalities due to the contrast between Billy's serious demeanor and Robin's wild-child nature. Billy is interested in having a real relationship with Robin, who instead insists that their marriage is just an arrangement and that she wants to focus on her musical career. Robin starts up a band, which Peter joins, and also meets up again with James, who uses Robin as a poster child for successful prison reform on his campaign.
Robin spends more time with the family, getting close to Peter and Timmy, which upsets Billy. Robin suggests they see other people, which Billy accepts reluctantly. Billy dates and has sex with another woman. Robin, meanwhile, visits James at his big house. They play pool and have sex after (they start in the pool room, then at the bathtub and finally in the bedroom). Afterward, the pair confront each other jealously over their being with other people.
The next morning Robin reconciles with Billy, helping him out when his jeep breaks down and spending time with him at work restoring an old museum. They have sex in Billy's workshop and are interrupted by a group of tourists, who take pictures of the pair. At first Robin's public indencency is hushed up due to her status as James' poster child, but when James sees the pictures he is jealous, and orders that Robin's parole be revoked. The police come for Robin when she is performing with her band at a bar. Robin flees to James' house for help, but he turns her away. Robin goes back to Billy's house, where he has packed up her things and prepared money for her. Billy promises to help her no matter what she wants to do, and Robin decides she's tired of running.
Billy and Robin secretly crash James' political dinner. Robin takes to the stage with her band, praising James' assistance in "helping" her. Her passionate performance earns them a standing ovation, which in turn helps James' image. James agrees to help Robin, and she no longer has to go back to prison. Robin and Billy return home together, happily married.
Summary
Robin (Rebecca De Mornay) looks fine with her petite yet curvy body. Her sex scene with the politician is not that hot since she considers her marriage with her husband as just business at that point and prior to that, they also have agreed to date other people though her husband is reluctant about it. I actually like her sex scenes with her husband more.
Watch Full Movie Online
Wide Screen, better copy but Russian Dubbed
Full Screen + Original English Language
---
---
---