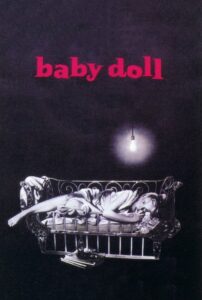 ---
A child bride holds her husband at bay while flirting with a sexy Italian farmer.

In Tiger Tail County, Mississippi, the decadent middle-aged Archie Lee Meighan has been married to Baby Doll Meighan for two years and has not consummated his marriage yet. Archie has promised to his father-in-law in the death bed to wait until Baby Doll is twenty years old to have sex with her and they live in a dilapidated mansion with Baby Doll's aunt. When the Sicilian Silva Vacarro brings a new cotton-spinning machine to the county, Archie loses his business and is completely broken. On the eve of Baby Doll's twentieth birthday, Archie Lee burns down Vacarro's machine. The Sicilian suspects that Archie is responsible for the criminal fire and he heads to Archie's property to use his old machine. While Archie is buying a cylinder to replace a damaged one in the machine, Vacarro seduces the despicable Baby Doll and forces her to sign a confession that Archie has burnt his equipment. When Archie returns home, he gets crazy with the situation.
|
Cheating Notes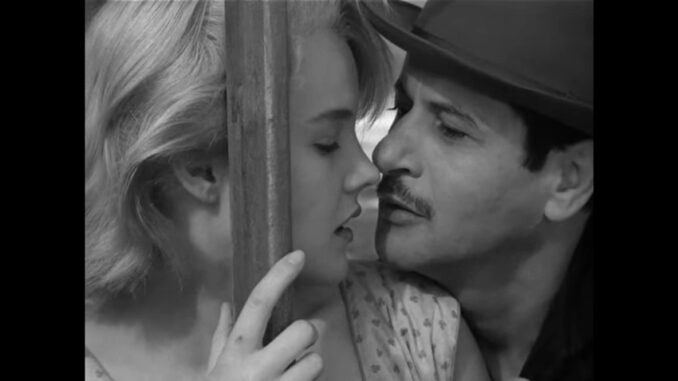 At 49:30, the wife is seduced by the Italian farmer while they are sitting on a swing. She gets horny and almost gives in.
The wife and the Italian farmer play hide and seek around the dilapidated house. At one point, she is lying on the floor and he tickles her on the tummy with his foot (1:11:35).
The Italian stays for the night and sleeps on a crib that the wife usually sleeps in. The wife, in her nightgown, sleeps by the foot of the crib, holding his hands and with her head resting beside his groin area. Nothing sexual happens between them during the night, or at least it's not shown or hinted at.
In the morning, the husband returns home and finds the Italian farmer at his mansion, with his wife in her nightgown. Well, he doesn't exactly go wild outright and accuse his wife of fucking the man. He lets the Italian stay for dinner.
During dinner, the wife and the Italian kiss while her husband is in the next room (1:31:32). Later, the two flirt in front of the husband at the dining table, and eventually, the husband goes wild and gets his shotgun.
Watch Full Movie Online
---
---
---