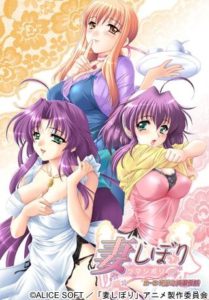 ---
Kousuke lives a boring life without women. His father worries about him not having any girlfriend so he hatches a plan with his friend's daughter, Sakura, to setup Kousuke with Sakura's younger sister, Madoka. They force Madoka and Kousuke to live in the same house, hoping that they will develop feelings for each other and get married. Sakura also lives with them to keep watch. Kousuke's cohabitation with two beautiful sisters starts... a world filled with wives in need of some attention awaits him.
|
Cheating Notes
Initially, Kousuke assumes that Sakura is married and gets a boner on the thought that she is a hot, young wife. He has sex with her, but it turns out that she is already a widow.
In Episode 2, Kousuke has anal sex with Yukie, his neighbor and a restaurant owner. She is married but is being sexually deprived by her husband. During their lovemaking, Yukie tells Kousuke that that she really wants him inside her pussy, but that pussy belongs to her husband so she can only let him fuck her in the ass instead. She says that she loves her husband even if he doesn't touch her anymore and remains firm in her belief that a woman's vagina should be reserved for the one she loves.
---
---
---