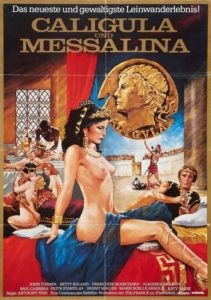 ---
Messalina (played by gorgeous Betty Roland) is a power-hungry nymphomaniac who will stop at nothing to become Empress of Rome. She brings herself to the attention of Caligula by battling in the gladiator arena and it is not long before she achieves her goal, upsetting the Emperor's youngest sister Agrippina, who hopes that her son Nero will eventually become ruler of Rome. Agrippina successfully plots Caligula's downfall, but Messalina rains on her parade by immediately jumping into the sack with his successor, Claudius. But naughty old Messalina can't commit herself to one man, and shags everyone in sight, including a grotesque, but well-endowed, frequenter of brothels, a randy midget, her eunuch(!?!?) and an ex-lover. When she ends up pregnant, and it is obvious that the father is not Claudius (since he has been away fighting in foreign lands), Agrippina finally sees her opportunity to be rid of her nemesis once and for all.
|
Cheating Notes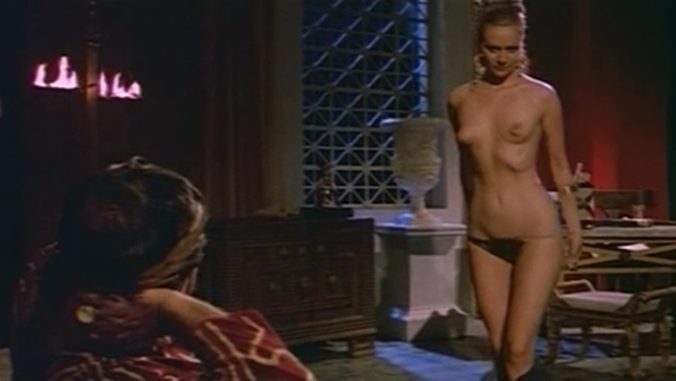 Messalina, who has become Caligula's chick, seduces and fucks a black servant in the bath.
A newlywed is introduced to Caligula. He takes an interest in them and says that their marriage will be consummated according to ancient customs. And by that, he means him fucking the bride in front of the groom and also fucking the groom in the ass.
Messalina hooks up and has sex with Claudius, Caligula's uncle, just before Caligula gets killed by revolters. Claudius becomes the new emperor and she, the new empress.
Messalina and Claudius have a threesome with a midget.
Mesallina has lesbian sex with Aggripina in the bath.
The midget gives Messalina a tip that a certain customer of a brothel has a huge dick. So she goes there, pretends that she's one of the whores and fucks the huge, grotesque-looking but well-endowed customer.
While Messalina is walking incognito in the streets, she is attacked by several men and is saved by Veroni, a gladiator instructor. She rewards him with sex.
Silius tells Agrippina that Claudio is about to arrive from war. She tells him that Messalina is pregnant and Claudio couldn't possibly be the father.
Messalina makes out with Veroni in some museum. Then, she feeds him to the lions when he starts getting cheesy.
Messalina meets Silius, who is apparently her ex-lover. She makes out with him.
Messalina is naked with Silius in the bath and making out with him when a servant announces that Claudio has arrived. She dismisses the servant and continues making out with Silius.
Agrippina has sex with her uncle, just in time for her plan to expose Messalina.
Messalina is in bed with Silius when soldiers arrive to kill her. They continue fucking while the soldiers stand over them. The soldiers then pull out their swords and start stabbing the lovers to death.
Watch Full Movie Online
---
---
---