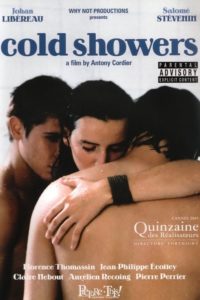 ---
Mickael's family is struggling (they don't have enough money to pay for hot water) however his life is full with Judo and his girlfriend Venessa. Then Mickael makes a decision to open up his relationship to include Clement his rich-kid Judo partner, starting a chain of events.
|
Cheating Notes
During a party at Clement's house, Mickael, his girlfriend Vanessa, and Clement fool around with the camera. At one point, Mickael is holding the camera and Vanessa and Clement are posing. Mickael tells Clement to press against Vanessa. Clement pulls his shorts down, lifts Vanessa's dress and press his manhood against her butt. The three of them laugh.
One day, Mickael and Clement is training in judo in the school gym and Vanessa visits them. Vanessa joins them in judo-ing playfully and it leads to them having a threesome on the gym floor.
The three are out one night walking. Vanessa makes out with Mickael first, then after a few steps she makes out with Clement second.
They proceed to go to a hotel to check in. Due to some payment issues, Clement and Vanessa go in first and Mickael should follow 10 minutes later. From the sidewalk, Mickael sees his girlfriend at the hotel room window. Then he sees Clement coming from behind her and hugging her. They kiss and disappear from Mickael's view.
Mickael goes to the hotel front desk so he can go in. The clerk calls the room of Clement and Vanessa to verify, but they are not answering, so Mickael is not allowed to get in. Mickael is disappointed.
Mickael somehow gets in eventually. When he opens the door to the hotel room, he sees Vanessa getting naked, but she doesn't really acknowledge him. Instead, she goes inside the bathroom and gets in the bath tub with Clement. He doesn't even inform Clement that Mickael is already outside. Clement, being a good friend tries to call Mickael on his phone from the bath tub, but Mickael runs away.
In the next few days, Vanessa tries to talk to Mickael but he avoids her. On the day of Mickael's judo fight, Vanessa comes and watches from the side. She tries to get a rise out of Mickael by hugging Clement from behind. Mickael gets distracted and loses his fight. Then he punches Vanessa.
Watch Cold Showers (2005) Online
Part 1 of 2
Part 2 of 2
---
---
---