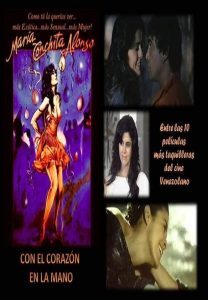 ---
A married woman has a strange relationship with a man who violated her.

The film takes place in Venezuela, with a Venezuelan bloke who works at an iron or steel foundry. He toils all day and has a Colombian friend, who is meek and timorous. The Venezuelan worker visits bars and prostitutes on his nights off. One night, he and his Colombian friend, see Maria Conchita Alonso coming out of a private club. The Venezuelan worker is awestruck. A few days later, they see her again in a mall. That's where things take a revolting turn. The Venezuelan worker rapes her in a restroom while his Colombian friend watches in surprise. Instead of being hurt or grief-stricken, Maria Conchita Alonso, insults him and takes over the situation by throwing some money at him, telling him to meet her again. Thereby she is shown as very callous, with a bit of immense strength. That was very interesting, as she will control the liaison throughout the film.

From there, Maria Conchita Alonso and the Venezuelan worker form a carnal relationship, based on anonymity, sort of like Last Tango in Paris (1972). They meet in lower-class buildings or shacks. Maria Conchita Alonso also has a wealthy husband whom she thinks does not love her. She was once a secretary and slept with many of the males. Even though she travels in her wealthy husband's circles, she feels unwanted. She always returns to the Venezuelan worker.

The Venezuelan worker's Colombian friend is being bothered by some mobster, who wants his wife to bring in drugs. When he refuses, he threatens to have him deported. The Venezuelan worker asks Maria Conchita Alonso to help him, which she refuses outright, but later, he is allowed to stay at the iron or steel foundry thanks to her aid.

Things get deeper between the Venezuelan worker and Maria Conchita Alonso. He confesses his love to her, but she does not want anything of it, or so she says. It seems she is devastated by the past and her possible future of poverty with him. Her jealousy takes a dangerous turn when she asks the Venezuelan worker to kill his Colombian friend. At first he denies the request but later acquiesces, at a waterfall.

Finally, the Venezuelan worker wants to humiliate her and love her at the same time, which seems to be the nature of the whole torrid relationship. During a carnival in the street, the Venezuelan worker follows Maria Conchita Alonso, after having degraded her in a bar. He tells her he loves her, but she runs away, then takes out a pistol and shoots him when he seeks her out again. Later, he is visibly dead in some alley. The film ends.
|
Cheating Notes
---
---
---