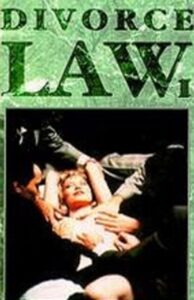 ---
A law firm specialized in divorces must deal with several new divorce cases and personal crises in this erotic anthology.

The first story is titled "An American She-Wolf in Tokyo". A once popular all-girl rock singer Loosha Wolf, who fronted the band "Loosha Wolf and the She-Hits", has a big problem. She's been married to a rich Japanese businessman for years and now she wants a divorce. However, he's blackmailing her not to go through with it, since he has a sex tape of her in a gang bang with several male sponsors of the band. Meanwhile, the firm's owner Philip Grimes finds out a fling with a woman he rescued while working decades ago as a firefighter produced a child, Victoria, who comes to meet her daddy. Unfortunately, she can't take her hands off both his employees and the people involved with the case.

In story two, "Slam Dunk", a wife needs help against her husband, who's filed for divorce after catching her having sex with a poindexter Peeping Tom Meanwhile, Grimes' top lawyer Rachel Horn must help a lesbian, whose life partner wants to split up with her and get their house they bought together. The identity of this woman is a shock to Rachel, since it's her lesbian twin sister - Brenda!.

In "Emeralds of the Amazon", a husband brings men to his wife to sleep with. He then proceeds to secretly record their lovemaking and make sex tapes he sells in South America. She learns about this and wants a divorce and damages.
|
Cheating Notes
In the first story, "An American She-Wolf in Tokyo", her videotaped gangbanging happened before she was married to the Japanese businessman.
"Slam Dunk" starts at 28:10.
"Emeralds of the Amazon" starts at 56:06. This wife sharing/wife watching segment is the one I like the most among the segments. There's also a side story here about a homeless couple trying to divorce because the wife fucked a guy she met while rummaging through a garbage dump. She's pretty hot for a homeless person. LOL.
Watch Full Movie Online
---
---
---