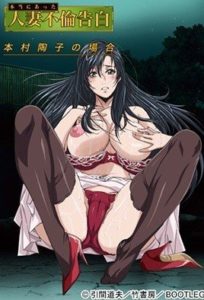 ---
Episode 1: This is a true story about the immoral confession of a married woman. Her name is Motomura Touko. She's a 32-year old housewife that's been married for six years. She believes that she has inherited a certain "promiscuity" gene from her mother whom she caught making love to a man other than her father when she was young. As soon as she started getting her menstrual periods, her body goes into a rut whenever she sees men. She is not unable to calm it down by simple masturbation, not even with her husband when she got married. So she remedies it by having sex with any man she comes across.

Hearing of a certain legendary onsen (hot spring), she returns to her native village to seek answers to her sexual addiction. She comes to the onsen to take a dip in its hot water. There, she meets Kouta, a guy who works in the onsen. Apparently, he is the son of her mother's lover and also her childhood friend whom she shared some intimate moments with, like showing each other's naked bodies while playing doctor. He has an ax to grind with her family and starts his revenge by violating Touku sexually after she falls asleep because of the sake that he gave her. Touku wakes up in the middle of his revenge and airs her objection at first. But then she feels an amazing sensation from what he's doing to her so she lets him finish what he's doing until they both climax.

Now that Touku has found someone that can tame down her uncontrollable desire, she decides to stay and not come back to her husband.
|
Cheating Notes
Watch Hontou ni Atta Episode 1 Online
---
---
---