---
Dustin Yarma is a Los Angeles film executive who awakens on a beach after a night of drunken debauchery to the dead body of a young woman he was with the night before. Minnow, a beach bum/derelict, approaches Dustin and offers to dispose of the body only if Dustin will finally support him. With little choice and knowing his life will be damaged in a public Hollywood scandal, Dustin accepts Minnow's offer. Soon, Minnow has moved into Dustin's posh house, and socialized with more of Dustin's friends, including his girlfriend Darcy.
|
Cheating Notes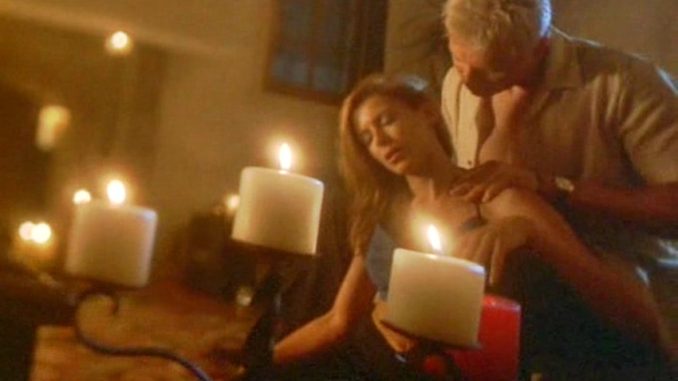 Our boyfriend is drunk and stoned, and he is fooling around with a stripper on a deserted beach. In the morning, he wakes up on the beach with a hangover and the stripper is lying dead next to him. A filthy homeless guy comes over and tells the boyfriend that he saw him kill the girl.
The truth is that the homeless guy killed her, but since the bf was drunk and stoned and can't remember anything, he doesn't want to risk it. The guy tells the bf that he'll take care of the body in exchange for a future favor. The bf accepts the deal and goes home.
The next day, the homeless guy comes to his house and starts blackmailing the bf. He slowly takes over the bf's entire life, including his car, his house, his job, and finally his super hot girlfriend Kari Wuhrer! He fucks her at 1:08:39. She covers her boobs with her hands.
Kari Wuhrer is just too hot to handle here. She gives a scintillating performance both with her acting and her amazing body. (source)
---
---
---