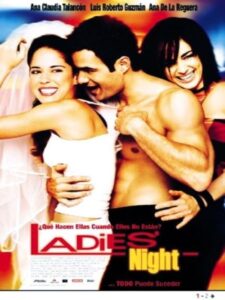 ---
The story centers on Alicia (for Alice in Wonderland, played by Ana Claudia Talancón), a candid woman who has never been really understood since childhood because she spends her life in a world of fantasy that she draws by and for herself. Her wedding is only a week away and she's engaged to Fabián (Corres), the editor in a teen magazine, and his coworker and best friend is Ana (de la Reguera), a "rebel type" girl who's obviously has a crush on him. Ana doesn't like Alicia and vice versa, so when the bachelorette party for Alicia comes, an uninvited Ana comes along and she has a secret surprise for the party: she hired a male stripper named Rocco (Guzmán) to spice things up, 'cause Ana and her friends are very uptight. But, after performing his act, fate arranges things for an instant click between Rocco and Alicia. Then, after some events that involve a small robbery and a videotape with scenes from a previous sexual encounter between Ana and Fabián, both girls have to go after Rocco but with different intentions: while Alicia tries to find him to make up her mind about the marriage, Ana tries to recover the tape so Alicia won't find out.
|
Cheating Notes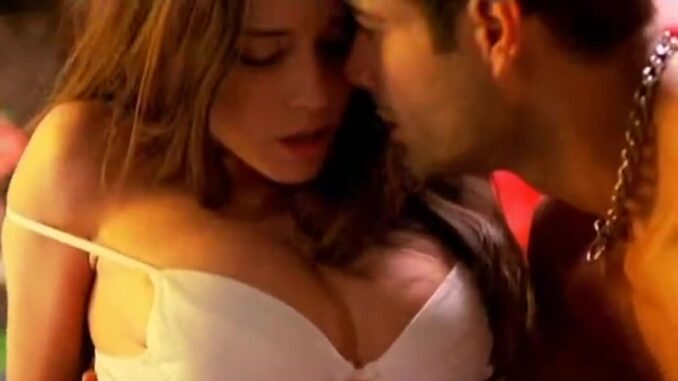 Ana and Fabian unexpectedly have sex in the office. Ana wants Fabian to dump his fiancee, Alicia, because of that, but Fabian loves Alicia and wants Ana to treat what just happened as just an "encounter" between friends.
Ana attends Alicia's bachelorette party, but her intent is to frame Alicia or something by hiring a stripper named Rocco and telling him to fuck Alicia. At one point, Rocco dances lewdly with Alicia in front of everybody. Later, Alicia goes to a private room upstairs and Rocco follows her there. They talk and Alicia finds that Rocco isn't so bad to talk with. She starts falling in love with him. They nearly kiss several times on the bed. He offers her chocolate and she licks it off his finger. She tells him to kiss her neck and he does lightly. Then, she suddenly gets up and takes her panties off, seemingly ready to fuck him, but the scene cuts off. So we are left wondering if she fucked him that night. Later in the movie, we find out through a flashback scene that she didn't because she fell asleep after removing her panties.
After some plot progression, Ana meets Rocco again with the help of Ana. Rocco slips and says something which makes him run and Alicia going after him. The chase ends up with Rocco pushing Alicia against a wall, kissing her on her cheek, her neck, and a bit on her body over her clothes but she says no and that's only as far as they get at this point.
Alicia goes to a strip bar to watch Rocco perform. Ana is there too, and so is Fabian. After Rocco's performance, he and Alicia talk near the stage. A friend of Rocco suddenly plays a video of Fabian and Ana fucking on the big screen. When Alicia starts turning around to the screen to see what people are looking at, Rocco, in an attempt for her not to see it, kisses her. She kisses back, and their kiss becomes a prolonged, romantic one which Fabian fully witnesses.
When her kiss with Rocco breaks off, Alicia looks at Fabian like she is about to cry. However, Ana's dress goes up Marilyn-Monroe-style when it is blown by the fan and Alicia sees that they have the same panties, which signifies that Fabian is having affair with Ana.
Alicia leaves the bar together with Rocco. They go to a shop and have sex. One of Alicia's nipples is shown for a little bit and that's the nudest shot we see in the film, unfortunately.
The day of the supposed wedding between Alicia and Fabian still comes. She still gets to wear her wedding dress. Anna and Rocco are also invited. But as expected, it doesn't materialize and Alicia chooses Rocco in the end.
Watch Full Movie Online
---
---
---