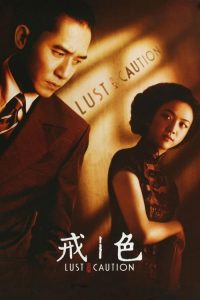 ---
During World War II, a secret agent must seduce and then assassinate an official who works for the Japanese puppet government in Shanghai. Her mission becomes clouded when she finds herself falling in love with the man she is assigned to kill.

Shanghai, 1942: The World War II Japanese occupation of this Chinese city continues in force. Mrs. Mak, a woman of sophistication and means, walks into a café, places a call, and then sits and waits. She remembers how her story began several years earlier, in 1938 China. She is not in fact Mrs. Mak, but shy Wong Chia Chi (Tang Wei). With WW II underway, Wong has been left behind by her father, who has escaped to England. As a freshman at university, she meets fellow student Kuang Yu Min (Wang Leehom) Kuang has started a drama society to shore up patriotism. As the theater troupe's new leading lady, Wong realizes that she has found her calling, able to move and inspire audiences and Kuang.

Kuang convenes a core group of students to carry out a radical and ambitious plan to assassinate a top Japanese collaborator, Mr. Yee (Tony Leung). Each student has a part to play; Wong will be Mrs. Mak, who will gain Yee's trust by befriending his wife (Joan Chen) and then draw the man into an affair. Wong transforms herself utterly inside and out, and the scenario proceeds as scripted until an unexpectedly fatal twist spurs her to flee.

Shanghai, 1941: With no end in sight for the occupation, Wong--having emigrated from Hong Kong--goes through the motions of her existence. Much to her surprise, Kuang re-enters her life. Now part of the organized resistance, he enlists her to again become Mrs. Mak in a revival of the plot to kill Yee, who as head of the collaborationist secret service has become even more a key part of the puppet government. As Wong reprises her earlier role, and is drawn ever closer to her dangerous prey, she finds her very identity being pushed to the limit...
|
Cheating Notes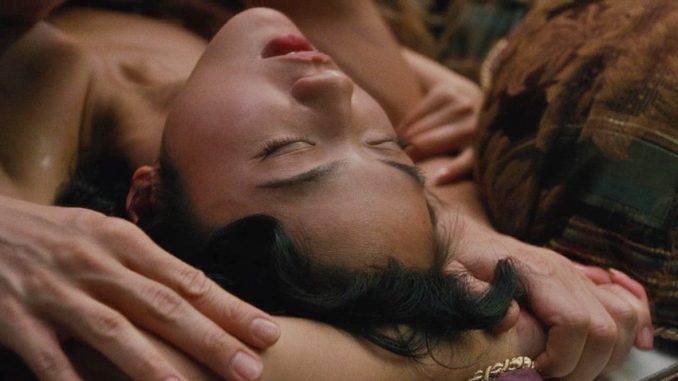 A group of students who belong to the school's drama society plan to assassinate Yee, a Japanese collaborator. Each student has a part to play; Wong will be Mrs. Mak, who will gain Yee's trust by befriending his wife and then draw the man into an affair. Wong, a virgin, is so determined to do her part that she lets another male member of the group fuck her (twice, at 1:00:00) so that she can practice having sex and won't be an amateur when the time that she and Yee are going to have sex comes.
"Mrs. Mak" is successful in starting an affair with Yee. You have to watch the movie how their affair unfolds but basically, they have sex at least three times (1:32:00, 1:40:01 and 1:52:00). Their last two sex scenes are quite hot.
Now, technically, there is no real cheating wife in this movie because Mrs. Mak is just pretending. But think of it from the perspective of Yee. In his mind, he is having an affair with a rich businessman's pretty, young wife. So if he is the type of guy who gets extra horny and his ego extra inflated by coveting another man's wife, then he certainly has felt all that while banging Mrs. Mak, because he never found out the truth until the end.

Summary
A high-quality film by director Ang Lee.
Watch Full Movie Online
Moviexk.biz (with English subtitles)
---
---
---