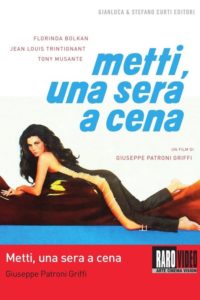 ---
A liberal-thinking author watches his wife as she attempts to seduce his best friend at a dinner party. She ends up taking on another man as well, and the writer has an affair with the other dinner guest. Soon the three men and two women are entangled in a confusing series of partner-swapping sex sprees where everyone's morals are challenged in the wake of the sexual revolution.
|
Cheating Notes
This is just an outline of events. The movie is dialog-driven so you may want to watch it in full and with subtitles to dig into the story deeper.
i. Brief kissing scene of Nina and Rick, her lover, on the bed. They have their clothes on.
ii. Michele pitches a story to Max, his best friend, about a love triangle involving a couple and their friend. He uses him, Max, and Nina, his wife, as an example so we see hypothetical scenes of Nina and Max entering a room, drinking and then kissing.
iii. After-sex dialog between Nina and Rick. She gives him money.
iv. Max and the couple watch a boxing event. Michele excuses himself and tells Nina that Max will take her home. We find out that Max and Nina already have an ongoing affair based on their dialog. Max asks Nina where she was before the game (she was with Rick).
v. Dinner scene. Max whispers something to Giovanna, a friend of the couple. We will still learn later what he said to her.
v. After-sex dialog between Nina and Max in a room, with Nina in her underwear. He tells her that he's having an affair with her because he loves Michele, so it's better if he, her husband's best friend, is her lover than some other guy. (Wow, isn't he a great friend)
vi. Nina has a threesome with Max and Rick. It is revealed through flashbacks and dialogs that Max is the one who paid and introduced Rick to Nina so that they can have a threesome and he didn't like it when Nina started seeing Rick alone.
vii. Giovanna tells Michele that Max and Nina are having an affair for years and tells him what happened during their dinner earlier. We are shown things we haven't seen in the dinner scene through flashbacks: Max caresses Nina's leg under the table, then he whispers to Giovanna that she should sleep with Michele since Nina's sleeping with him. Also, he tells her that Nina's foot is between his legs under the table. Michele tells Giovanna that he has always known that the two are having an affair.
More Info for Metti una sera a cena (1969)
Info + Torrent Download Link: Torrentz2.eu (subtitles here)
Watch Full Movie Online (No subs)
---
---
---