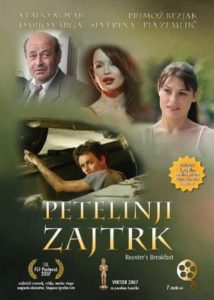 ---
After being fired, a young car mechanic Đuro gets recommendation to look for another job in a remote village. His new boss is warm, old fashioned and naive - completely opposite from the world he's coming from. The peaceful atmosphere is shaken when Đuro falls for a regular customer's wife.
|
Cheating Notes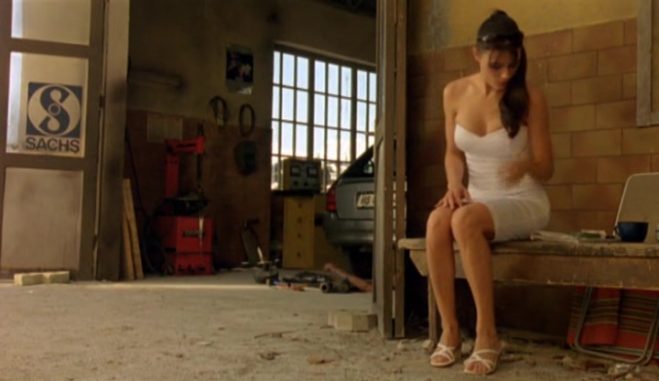 Bronja (Pia Zemljič), the wife of Lepec (or Cveto) goes to the auto shop where Djuro is working to have her car fixed. Djuro instantly notices how hot she is.
Bronja asks Djuro's boss to lend her his car because she needs to drive to Austria to buy some pills for her friend. Djuro's boss doesn't trust her driving skills so Djuro ends up driving for her instead. At first, Bronja is being feisty towards Djuro. But at the end of the trip, they have gotten to know and like each other better.
Djuro goes to town for an errand and meets Bronja by chance while eating in a food stall. He treats her for some food, they talk and warm up more to each other. Bronja has become comfortable enough around Djuro that she can get to drink beer from his glass.
Several days later, the two meet and have a walk together. Basically, they have a date.
During a party, Djuro and Bronja smile at each other. Bronja is seating beside her husband and daughter.
Djuro and Bronja have a date on a field beside a haystack.  They have sex, with Bronja sitting on Djuro's lap while they kiss. Bronja has her clothes pulled down to her waist. It is a very brief scene but very sexy, as we see the sexy naked back of Bronja.
Sometime after that, Djuro goes to an apartment where Bronja is waiting for him. She says that it's her friend's place and she lets her borrow it from time to time if she needs it, like she needs it now to fuck Djuro. They have sex, and this time their lovemaking is longer and sexier. She licks his nipples and his chest and then does a proper kiss-with-tongue action with him.
Djuro and Bronja get caught
Djuro's boss and Bronja's husband leave for Hungary to get some spare parts. Djuro calls Bronja and tells her to come to the shop. They kiss and start having sex in his room when suddenly, Djuro's boss and Bronja's husband arrive. Bronja's husband leaves after dropping Djuro's boss but Djuro's boss comes up to his room and sees Bronja inside.
After expressing his sentiment, Djuro's boss comes down and Djuro follows him. They talk, and Djuro's boss, although mad, decides he won't tell Bronja's husband about it.
Sometime later, Bronja's husband goes out of town. Djuro goes to Bronja's house and they fuck in the couple's bedroom. Their sex is more agressive this time. Maybe they get extra horny knowing that they are fucking in the bed that Bronja shares with her husband. Bronja's daughter is home but is sleeping in another room.
The next morning, Bronja's husband goes to the shop and talk to Drujo's boss. Apparently, he found a lighter in their bedroom. It's Djuro's lighter but he doesn't know that. All he knows is that his wife had fucked another man inside their bedroom. He asks Djuro's boss if he had seen Bronja with another man. Djuro's boss lies and says no.
Djuro and Bronja meet again and have sex in the backseat of her car. She gives him her heart-shaped jewelry.
Later, Bronja's husband goes to the shop and sees Bronja's jewelry on Djuro. He realizes that Djuro is the guy that his wife has been fucking and starts to attack him. But Djuro's boss comes out and shoots him because of something he's done that made Djuro's boss mad. Bronja's husband dies. She and Djuro live together after that. Cheaters win in this film, and that's ok. In fact, that's great.
Summary and Recommendation
Bronja (Pia Zemljič), the wife, has tons of sex appeal. Any husband who is of the jealous-type better not leave her alone near any dirty, rugged yet handsome young male mechanic or else, something like in the movie will happen.
More Info for Petelinji Zajtrk (2007)
Info + Torrent Download Link: Torrentz2.eu (Petelinji.Zajtrk.2007.DVDSCR.XviD-SpeeD has English subtitles)
Watch Full Movie Online Below (No English Subtitles)
---
---
---