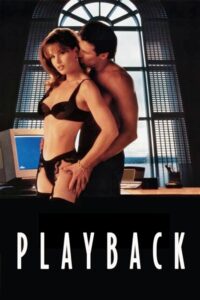 ---
The marriage of David, a senior executive, and his beautiful wife, Sara, an interior designer, is under great strain because he is in the process of putting together the biggest telecommunications merger in the history of the business. She suggests that they attend a kinky sex club to revitalize their marriage and help him to relax. However, his problems are exacerbated by a huge power struggle at his office between Karen, Gil and himself. Karen, a beautiful, ambitious, ruthless, senior executive, is determined to take over this merger at any cost. To further her aims she hires the services of sleazy divorce private detective Ernie to spy on David and Sara's. At the date of the merger draws near and all the blackmail and dirty tricks start to play themselves out, who will come out the winner?
|
Cheating Notes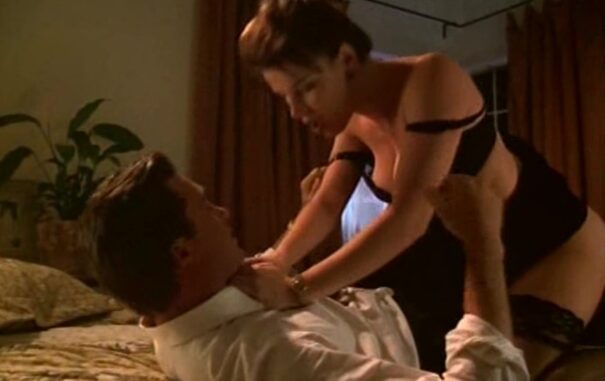 David's colleague, the older Gil, sets his eyes on David's wife, Sara (Tawny Kitaen), I guess as part of their competition in the office. He comes to her house and seduces her at 54:07. He starts kissing her on the couch. She is reluctant and is telling him to leave but she also seems to be kissing back. The scene cuts off so we don't know if she goes all the way with him.
Later, David sees pictures of Sara and Gil kissing on the couch. When he confronts her about it, she denies that she went all the way with Gil. Several scenes later, David sees additional photos and finds out that his wife is telling the truth, as some photos show that she pushes him back in the end.
David also nearly fucks Karen (Shannon Whirry), his officemate, at 1:04:38. She's the one who showed him the photos. They are already in bed and their lovemaking has started. It's sexy since it's Shannon Whirry. But unfortunately, David changes his mind.
Sara meets Gil again, pretending that she'll have sex with him. But it's a setup to get a video of him tied and blindfolded, with another chick, not Sara, whipping him.
Watch Full Movie Online
Russian dubbed.
---
---
---