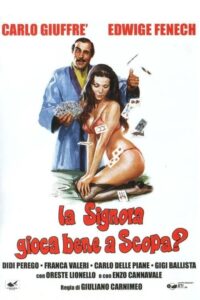 ---
Carlo Giuffrè plays Michele, a down on his luck gambler who sells shoes for a living. His friend and adviser Peppino informs him his debts are greater than his earnings. Luckily, his hands are a wonder to women, especially rich admirers Giulia and Monica, who invite him to stay at their mansion and pick up some extra money doing chores. Giulia wants to paint him in the nude while Monica just wants to roll around in the hay. And the pigsty. And the chicken coop. Although quite a lot of raunchy stuff is implied, it is all done with suggestive imagery. That is until a nubile and very slim Edwige Fenech appears from under the shower at the 30-minute mark. She's Eva from Germany, who is married to geeky writer Alberto. She's a German health nut and Richard Wagner enthusiast who can only become aroused when wet.

Compared to most Italian comedies, this one has its roles reversed: instead of caricatures of men chasing after one gorgeous gall, we have one man being chased by every woman. Even Edwige Fenech is acting completely over the top, complete with (dubbed?) German accent. Of course, the only reason she has an accent is so she can make suggestive mispronunciations, as all foreigners do. While her husband Alberto is too busy thumping his typewriter to please her, Michele is determined to fill his shoes. Eva seems to suffer from 'hilarious' mood swings, until Michele finds out she can only be turned on (literally) by water. But since he has to pleasure the other two broads as well, he starts to get exhausted and can't concentrate on his poker games anymore. He decides to get his nerdy assistant from the shoe store to help out, with disastrous results for all concerned.
|
Cheating Notes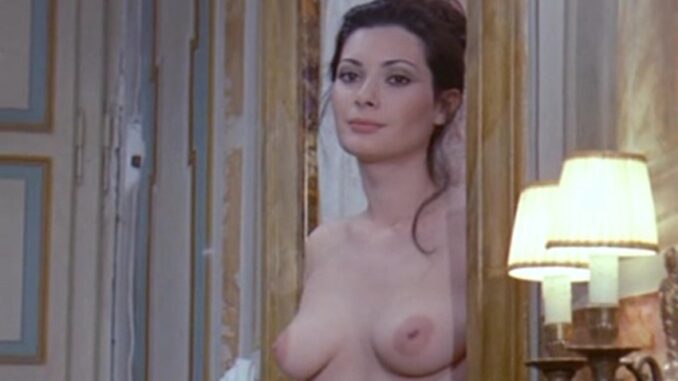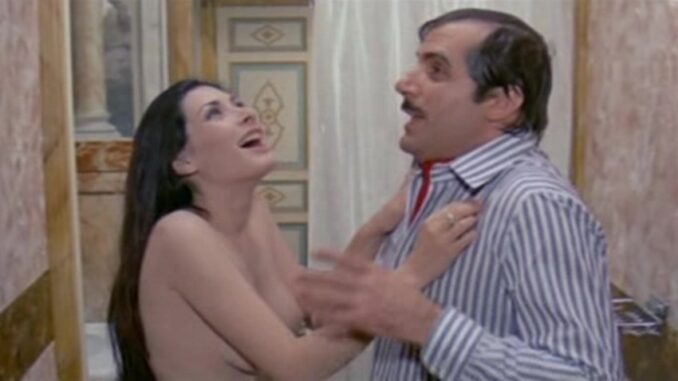 Michele, the gambler and the movie's main male character, starts romancing a chick on her bed but her husband (or boyfriend) suddenly comes home so he hides under the bed (5:52).
Michele first meets Eva (Edwige Fenech) and her geeky, writer-husband in one of the bathrooms at the mansion of Giulia and Monica (30:40). She comes out of the shower naked, not really minding that another man besides her husband is in the same room with them. To demonstrate a point to her husband, she approaches Michele and starts hugging him and stuff, in all her naked glory. When Michele tries to take advantage by taking in more than what she's giving him (by cupping her breast), she slaps him.
Michele is assigned to serve breakfast to Eva in her bedroom (43:22). When he comes in, he finds her in a transparent lingerie (with her boobs very visible) and doing some kind of acrobatic yoga on the bed. He gets to lie on top of her, kiss her mostly on her neck, and caress her buttocks when she gets engrossed in her own monologue. She pushes him off her when she comes back to her senses.
Eva asks Michele to help her with the showerhead which malfunctioned while she is taking a bath (42:14). She tells him to close his eyes first before entering the shower. He does so, and grabs her boobs accidentally in the process, mistaking them for the shower knobs. When he is able to fix the showerhead, water comes pouring from it, drenching Eva. Apparently, water makes her horny and she starts making love to Michele in the shower.
Michele pays the gardener to spray him and Eva with his hose in the garden while they fuck (56:10). Her husband is on the balcony and can see the gardener and is talking to him, but he can't see his wife and Michele fucking because they are doing it behind a row of plants.
Michele and Eva are strolling across a field when it starts raining (58:20). She gets horny again and makes love to him in a makeshift hut in the middle of the field.
Eva has sex with another male character who has become privy to her weakness and exploited it (1:25:06).
Watch Full Movie Online
---
---
---