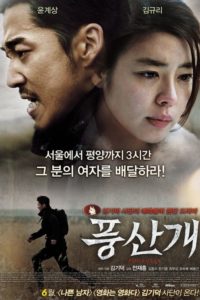 ---
Poongsan has the unenviable - and death-defying - job of delivering messages across the North and South Korean border to separated families. When South Korean government agents ask him to smuggle in In-ok, the lover of a high-ranking North Korean defector, into the South, the damsel and rescuer fall in love instead.
|
Cheating Notes
In-ok, the wife of a high-ranking North Korean defector, and Poongsan, her rescuer, fall in love while he is smuggling her across the DMZ. After the rescue, Poongsan kidnaps the couple when the government guys who sent him to rescue In-ok doesn't pay him and instead tries to imprison him. Because of the way that In-ok looks at Poongsan and the way she shows her concern towards him, In-ok's husband becomes suspicious that something may have happened between the two while crossing the DMZ. He gets furious when he finds out that Poongsan gave In-ok mouth-to-mouth resuscitation when she passed out somewhere along their escape route. But aside from that, and Poongsan carrying In-ok on his back while they were both naked as necessary part of their escape, nothing physical/sexual really happened between the two while they were escaping.
The only time that Poongsan and In-ok are able to make-out while In-ok is still a wife of her husband is when they are caught by some North Korean operatives a little later. In-ok reaches for the tied and bloodied Poongsan and kisses him in front of their captors. They fall to the floor and continue making out with their hands tied behind their backs.
Watch Trailer
---
---
---