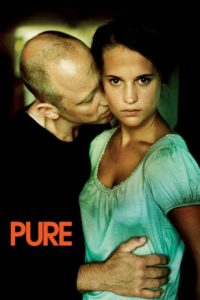 ---
Katarina is 20 years old. With a troubled past in a dreary suburb, her life seems to be already set in stone - until she discovers music. Everything changes when she hears a performance of Mozart's 'Requiem' at the Gothenburg Concert Hall that sends her reeling and opens up a beautiful new world. She feels that she has to change her life and get as far away from her ugly reality as possible. But the path she has to follow proves to be a treacherous one, filled with lies, betrayal and a dangerous liaison with the married conductor Adam. Yet Katarina is ready to do anything to gain her new identity.
|
Cheating Notes
Katarina, who has some slutty past in school that involves sleeping with a lot of boys and seemingly some sex videos, is living with her boyfriend who supports her financially. She becomes interested in music and gets a job as a receptionist at a concert hall. There, the conductor Adam has taken an interest in her. He asks to take her home one day and then dine with her at a pizza place near her place. He starts flirting with her everyday while she is doing her job as a receptionist.
During a company party, Adams signals her to follow him to the music hall where there are no other party-goers. He fucks her there in a standing position.
Adam also fucks Katarina at his house. She stays there overnight, so the next day, her boyfriend asks her where she spent the night. Initially, she tells him that she worked overtime and had to sleep in her office. But eventually, she admits to him that she's seeing the conductor. They break up.
Katarina goes to Adam to tell him that she and her boyfriend broke up. Maybe she wants to hear something favorable from him, like him leaving his wife for her. But of course, Adam treats her as just his fuck doll especially if he was able to fuck her easily. She hadn't even received her first paycheck  yet and he fucked her already. Adam tells her that they have to slow down because he has a wife and children. He also advises her to get back with her boyfriend.
Katarina comes back to her boyfriend's house, but he throws her out. Desperately, she comes back to Adam and gives him a blowjob forcibly at the basement of their company building to convince him to resume his affair with her. He takes the blowjob but doesn't take her back.
Watch Full Movie Online
---
---
---